Revenge Recap, "Lineage"
Revenge: Ranking the Biggest Scandals From "Lineage"
It's time for a Thanksgiving episode of Revenge, which of course means the least traditional turkey dinner you can think of. We're taken back to Thanksgiving '06, a time when the Graysons were still a somewhat cohesive family, Emily was still in revenge training, and Nolan was just a young mogul on the verge of an IPO.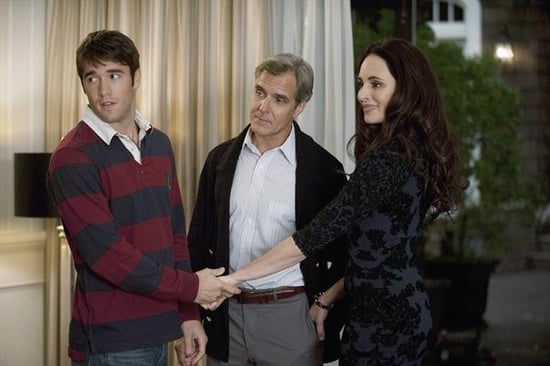 Though most of the story takes place in the past, we learn a lot this week: how Emily met Ashley, why the Porter brothers are inheriting their father's problems, and how Victoria learned all of her tricks. Ready to break down the most scandalous moments? Just read more.
Victoria executes a revenge plot of her own. We learn a lot about Victoria this week — or more importantly, how she came to be the master manipulator we all love to hate. It turns out that her mother (and her mother's array of creepy rich lovers) are to blame for Victoria's stone-cold heart. To "repay" her mother for her terrible upbringing, Victoria plots a months-long charade that starts with hiring an actor to seduce her mom and ends with having that actor dump her at Thanksgiving dinner. Payback's a bitch, and so is Victoria.
Victoria got her hands dirty at a young age. Amanda isn't the first person to get physically hurt at Victoria's hand; via flashback, we see that Victoria's mother had forced Victoria to shoot her stepfather-to-be when he threatened to leave. Victoria actually seems like an innocent 15-year-old up to this point, and it's clear that her mother is to blame for her corruption. The sad story doesn't end there either; after returning from the psych ward, young Victoria is thrown out on the street when mommy's new boyfriend turns out to be a pedophile.
Jack and Declan's issues with The Stowaway go way back. So now we have confirmation that the guy Kenny, who's been creeping around the Porter brothers, has a hidden agenda. Back in 2006, Carl owes money to the mafia, and things get even shadier when the mafia boss is murdered. Six years later, and bam — his son is here to exact revenge on The Stowaway and the Porter bros.
Ashley once tried her hand at being a woman of the night. In real time, Ashley is always perfectly put together, but back in 2006, she almost resorted to prostitution for a Russian mobster. Thankfully, Emily comes to the rescue — while also making her first connection with Aiden. The subplot about Aiden's sister is mostly filler, but it's interesting to see how Emily first meets Ashley and Aiden, and how she hooks Aiden up with Takeda's school of revenge.
Conrad dashes Daniel's creative dreams. This is pretty tame for Revenge standards, but it's still kind of sad that Daniel had real talent at poetry, and his father crushed his dreams by sending Daniel fake rejection letters from publishing houses.
What did you think of this week's episode?