Revenge Recap, "Power"
Revenge: Ranking the Biggest Scandals From "Power"
Revenge is back this week after a healthy hiatus, but what's more exciting is that Emily is back to actually exacting revenge on people again. That's right, her famed red Sharpie returns as she crosses off another enemy from her list, and it's giving me a glimmer of hope that this show might be able to get back on track again. That is, if we can finally get rid of the Ryan brothers and the Initiative — but neither party appears to be fading away anytime soon.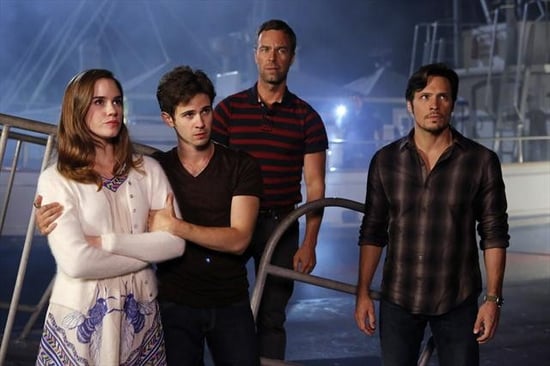 Declan runs a personal investigation into the guys that have been creeping up the Stowaway, but his nosy habits get him and his brother into serious hot water. Meanwhile, Emily revisits an old love, but her heart's true affections have never been less clear. Let's break down the biggest scandals of the night when you
.
Jack goes to jail. This week, we find out exactly how bad the Ryan brothers are, and Jack pays the price. Declan decides to investigate their shady dealings, and discovers some drugs mixed in with their coffee cargo. Too bad Dec didn't have enough time to cover his tracks; one of the brothers (I still can't tell them apart) realizes that Declan is snooping around and turns the tables, planting the drugs on The Amanda just as Jack's cop friend shows up for the bust. Jack takes the fall and ends up in the slammer. Is anyone else completely over this story line? Can't Emily swoop in and take down the Ryan brothers already?
Emily brings down the judge that convicted her father. When Emily gets wind of the fact that the judge from her father's trial is coming to town, she sets out to take him down. This one pretty much takes care of itself: not only does Emily learn that the judge set up a tainted jury for the trial, but the guy has also been beating his wife into silence for the past few decades. All it takes is a little finessing of the judge's wife, and presto: another one bites the dust.
Emily stages a breakup with Aiden. Victoria urges Emily to convince Daniel to step down as CEO of

Grayson

Global, for fear that the power is going to corrupt her poor, innocent baby boy. She pulls out the big guns to get Emily on board, asserting that Daniel is still in love with Emily. Emily sort of goes along with the plan, staging an elaborate breakup with Aiden to get Daniel's attention. Though she assures Nolan that it's just for show, Aiden does not seem like a happy camper to see Emily and Daniel making out on her porch.
The Initiative goes after Daniel — and Aiden. Creepy, lurking Initiative lady wastes no time trying to sink her claws into Grayson Global's new CEO, teasing Daniel that there are a lot more secrets than he realizes — and that these secrets can make him even richer. While Daniel chews on that information, Aiden also comes face to face with

Little Miss

Initiative, who claims that his sister is still alive. So is Aiden going to hop into bed with The Initiative behind Emily's back now? Emily's new fake relationship with Daniel could be just thing to make Aiden take the — wait for it — initiative to betray her.
What did you think of this week's episode? Do you think Emily still has lingering feelings for Daniel?