Revenge Recap Resurrection
Revenge: Ranking the Biggest Scandals From "Resurrection"
Last week's Revenge premiere set up the arc for this season: Victoria's alive, the white-haired man is still around, and Emily's got a target on her back. This week, we get a little more backstory on what Emily remembers of her mother, courtesy of an INXS-fueled dream in which her mom takes her on a car trip and then disturbingly turns into Victoria. Speaking of Victoria, "the bitch is back" in a blaze of black and blue glory while the Grayson offspring are struggling to cope with their horrendous family; sadly, they're way out of their league in terms of keeping up with the crazy.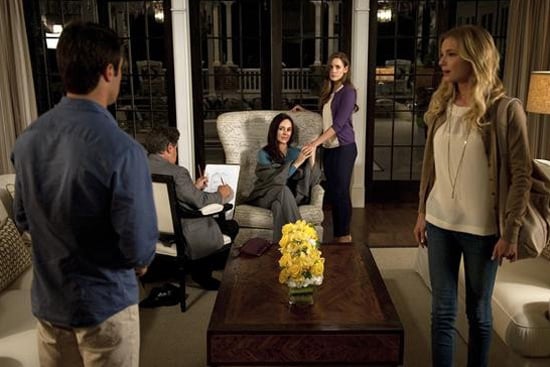 Alliances are already getting really complicated. The smart ones — Emily, Victoria, Conrad — don't trust anyone. Let's get into all the details when you read more.
Victoria fakes her own kidnapping. The best part of Victoria's reemergence are the looks of horror on Conrad and Daniel's faces when they see/hear her. I imagine most of the Hamptons will react in a similar fashion. After this week's series of messes, the Graysons are officially in need of some family therapy. Victoria gets Conrad to beat the crap out of her, Conrad steals money from his daughter, and poor Daniel is just trying to be valiant.
Emily gets saved by a familiar face. So now Emily is all buddy-buddy with the white-haired man, at least to the extent that she's willing to sell him the tape of Conrad beating up Victoria so he'll have the ability to exonerate himself. Except he's not really into that plan so much as he's into just killing her. I knew Emily couldn't die, but at that moment, I didn't have any idea of who could possibly save her. Enter Aiden, who shoots the white-haired man. I'm looking forward to seeing how this character factors into the grand scheme.
Emily lies to Amanda about her baby's paternity. This is a story that's doomed to end in despair. Amanda is officially carrying Jack's baby, which everyone knows except Amanda. The thing is, I don't know if I buy Emily's love for Jack anymore. As soon as Emily tells her that it isn't Jack's, I knew it was a lie. Despite Emily's insistence on ruining his relationship with Amanda, I don't see her clicking with Jack on a personal level. I'm predicting that after Amanda gives birth, she'll become a casualty of season two and Jack will raise their baby alone.
Nolan's business is tanking. I'm really not into poor Nolan. He had been crashing at Emily's (which is kind of adorable) until she kicks him out. Now he's like some billionaire vagabond. This is the first time we've gotten a look at what's going on with his business, through a kind of goofy scene with his board of directors. Its only real purpose is to introduce Padma, the accounting analyst who Nolan appoints CFO. Let me be the first to say, I do not trust her; no one is as innocent as they seem on this show.
Declan joins the robbery game. Was I the only one shouting at the TV when Declan agrees to hide the stolen bracelet for Rich Guy McGee? That's 50 shades of shady, and there's no way he's not getting framed for burglary or something worse.
Other burning questions: How cruel is it that Charlotte thinks she's going to be an aunt? Is the white-haired man actually dead? Did anyone else catch the Takeda reference in the Grayson Global meeting? How icky is it that Ashley is working with Conrad?