Revenge Recap of "Sabotage"
Revenge: Ranking the Biggest Scandals From "Sabotage"
Revenge's second season is weaving a web so tangled I'm having trouble believing the writers will be able to sort it out, even with all that soap greasing the stories. This week's episode, "Sabotage," alludes to a traitor in our midst — well, a new traitor, anyway. At this point, no one is exempt from betrayal. Seemingly innocuous characters are revealing their true colors, airtight alliances are being questioned, and Emily and Daniel are popping million-dollar bottles.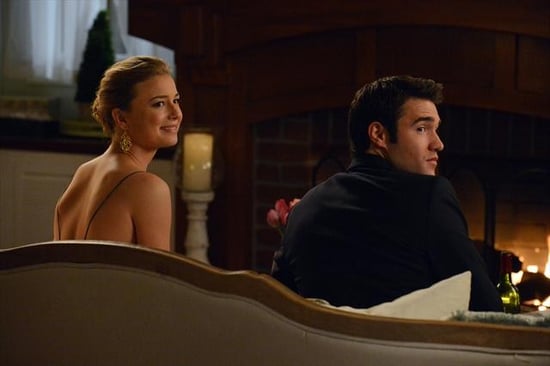 While Emily and Daniel edge closer to a real reunion (I see those stars in her eyes), Amanda gets to work on getting Jack out of jail and finds help in an unexpected place. Meanwhile, NolCorp is going though more personnel shifts, and poor Nolan's professional and romantic lives continue to swirl down the drain of misfortune. Let's break down the biggest scandals of the night when you
.
Padma is the saboteur! Who else knew something was off with Padma from the get-go? She's been out of the office and returns asking Nolan for a job, any job. She pretends to be his confidant, then plays him, framing Nolan's ex-lover/CFO Marco for spilling the beans to Daniel about the supersecret software. I'm not totally convinced Padma is evil, but she's definitely working for the bad guys. Could the Initiative be blackmailing her?
Emily and Nolan kidnap Aiden and Helen. Emily slithers back into her trusty black burglarwear (which I assume she buys at the neighborhood robbery store) this week to drug and question her "partner" and Helen the Initiative lady. The episode starts with the two captives and their captors, but I didn't suspect Emily would be behind the mask. Is anyone else still confused about Aiden's part in the incident? Does Emily know his objective has changed to getting his sister back? Did he know Emily was going to gas the elevator or did she blindside him?
Conrad gets Jack out of jail. Jack is still locked up after being framed by the Ryan brothers, and he begs Amanda not to get involved. I actually chuckled at this, because clearly he has no clue his baby mama is a dangerous ex-con. She and Charlotte — who is still under the impression she's related to Amanda and Jack's child — call on Conrad, the new face of justice for the falsely imprisoned (ha!), to bail Jack out. At first Conrad protests, but then his slinky protégé Ashley, who has forced her way back into the fold, suggests that it might be good for his image to help Jack out. It's a good thing, too, because Amanda has a black-market gun locked and loaded and is ready to take matters into her own capable hands.
Victoria goes to work on Conrad's competitor. Dylan Walsh turns up this week as Jason Prosser, one of Conrad's contemporaries. He's pleased Conrad is out of the business for now, but he can't shake that old competitive feeling when Victoria invites him to a charity auction. He bids on the items, but what he really wants is a shot at Victoria, whom he's always coveted. She leads him on and tips him off about Stonehaven United Solutions, the company Daniel is looking into acquiring. Doesn't she get tired from so much manipulation?
Revenge fans, I have to admit I'm getting a little exhausted of the plot thickening but not evening out. So many characters are being added but nothing is being resolved. My head hurts just thinking about it. Am I alone here?