Revenge Spoilers From PaleyFest
PaleyFest: Revenge Stars Tease Flashbacks and More Drama in the Hamptons
PaleyFest was back in action yesterday afternoon for Revenge. Stars of ABC's new hit show came out to talk about their successful first season, which, so far, has offered no shortage of plot twists, evil agendas, love triangles, and more. At the panel discussion, which followed a screening of a 20-minute teaser, Emily VanCamp (Emily), Madeleine Stowe (Victoria), and Josh Bowman (Daniel) graced the stage with the rest of the cast and creators to talk about their highly addictive series and answer questions for fans. The cast laughed along with the audience as they discussed the fun of playing such "twisted characters," as well as revealing a few hints at what is to come before the finale. Check out the highlights: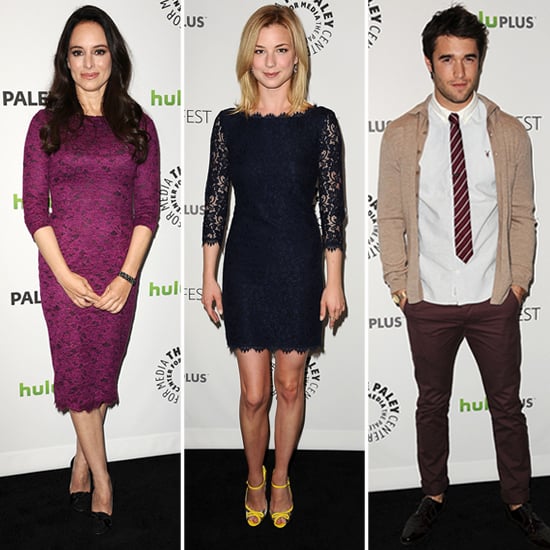 Fans can look forward to some fun flashbacks. When the panel was asked about what the audience can expect from the flashback scenes, Gabriel Mann (Nolan) weighed in to describe them. "It's flashing back to the 2000s and '90s, and yet by way of the '70s. It's like Revenge goes Starsky and Hutch." After that, the rest of the cast took stabs at what Nolan's hair and wardrobe would look like, and he assured everyone it would be something worth seeing.
When asked about what is to come, creator and executive producer Mike Kelley said, "If it's not impossible, we'll probably do it." The audience laughed and when the question of Emily's mother came up, he smiled and said, "If it's not impossible it's on Revenge." He gave a real hint, revealing that there would be a flashback episode that will include all the people Emily is taking down, so it will fill in some of the blanks.
Ashley Madekwe chimed in about how not much has been revealed about her character, Ashley Davenport. She joked that they're going to find out she's actually not British, she's from the Bronx. The British actress then said, "I've read a few blogs and they always make fun of my terrible English accent. But I'm English!"
VanCamp and Mann gushed over how they like working together. They complained that they like hanging out so much they feel like they never have enough scenes together. VanCamp mentioned she has trouble keeping her composure when she and Mann are trying to get through a scene. "Everyone knows once I break a smile I'm done for the day," she said. "Once I get the giggles it's all over."
Stowe said she enjoys playing Victoria. "Oh, it's a ball," she said. "I said Mike [Kelley], I'll do anything for you. Anything you want. I'll kill, I'll chop off arms, anything, as long as we understand where she comes from." She talked a little more about the multiple personalities that come along with playing Victoria, saying, "I'm a full believer in yanking the audience around."
VanCamp talked about how she keeps her character likable. "That was my biggest fear when I first read the script. I initially thought of Dexter, which is one of my favorite shows, so I knew it could be done." She also mentioned, "It's also so important to go back in time to what this family put this little girl through. And also to maintain a moral code and sense of integrity."