Review of The Bachelorette Season Premiere With Ali Fedotowsky
Bachelorette Breakdown: Buzz and Tres Talk Season Premiere
A new season of The Bachelorette bowed last night with Jake's former contestant Ali Fedotowsky and 25 brand-new guys out to win her heart and a rose. We — Tres and Buzz — have to admit that the show is one of our favorite guilty pleasures. This morning, we began dissecting the men's introductions and our early favorites, and then thought: why not share our thoughts with you guys? So, let's get this conversation going. Read what we had to say, and then chime in with your own musings about the premiere in the comments!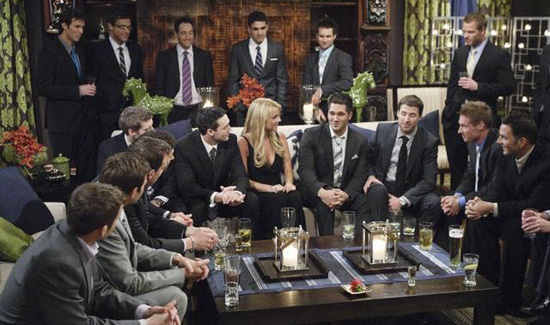 TresSugar: Can we talk about Ali's over-the-top outfit? I think ABC used the costume designers from Dancing With the Stars. I much preferred the natural look of Ali 1.0. She's so pretty! But all that makeup and fake hair took away from that.
BuzzSugar: I totally agree. If they're trying to position her as "America's sweetheart" who likes to keep it casual and wear Converse sneakers, then why all the done-up fuss? Speaking of which, they were really knocking us over the head with painting her as the girl next door. Gotta love the shots of her kicking around the soccer ball and then walking on the beach looking all pensive (in her bikini top, natch). She was also very, very giggly with the guys, but I'm thinking that's probably just nerves. Let's talk dudes!
To hear our thoughts on the men (and see a video clip of the hopefuls!) just
.
Tres: OK, so what about the pro-wrestler, Mr. Rated R? At first I was thinking Mr. Rated No Thank You, but I think he might be there for the right reason. I mean you have to be predisposed to wanting fame if you go on a reality show in the first place! I'd be much more concerned about the two dudes who said they needed a mama for their dogs. And I thought mountain man Kyle was going to hunt down Ali and bring her back to stuff her! I think Ali made the right choice by letting him go, even though he was sort of sweet. Who did you like, Buzz? By the way, you can see both Kyle and Mr. Rated R in the clip above.
Buzz: Really? Mr. Rated R actually drove me kind of nuts in his introduction. I loved seeing him interact with his grandmother, but I'm actually really worried that he's on the show just for the fame factor. Hopefully, he won't try to make "Mr. Rated R" happen, like Mike "The Situation" happened. As for the guys with the dogs, what bothered me even more is how they talked about finding a woman to "take care of them." What — like cleaning up after your pooch and keeping track of your calendar?! I kind of liked Frank. Granted, he was a little — OK, a lot — high energy, but I found his excitement kind of charming, and Ali seemed to get a kick out of his limo-jumping act. I'm putting him towards the top of my list of faves. Who is your front-runner, Tres?
Tres: See, I thought Frank jumped out of the limo and right into the friend zone. He's too crazy to take seriously. My personal frontrunner is super-sexy Roberto. He's smooth and confident and I felt like Ali got butterflies around him. Plus, he seems sort of normal. But we'll see how long that lasts. This is The Bachelorette after all!
Buzz: You're right — and you never know how they're editing the show to throw us off. I can't wait to see what happens!
Did you watch the season premiere? Who are your favorite guys? And what do you think of Ali as the Bachelorette? Do you like her as much as the previous women on the show? Sound off in the comments!
Photos copyright 2010 ABC, Inc.