Review of Conviction, Starring Hilary Swank and Sam Rockwell
Conviction: A Solid Display of Sibling Loyalty
Any movie that's "based on a true story" feels like old hat these days. It used to be a way to lure in the audience, but the term is so overused that it's lost effect. Conviction, which stars Hilary Swank and Sam Rockwell, is the latest drama to be written from real-life events, as it advertises on its poster. But the good news is that Swank and Rockwell's excellent performances save this one from being just another run-of-the-mill sentimental movie.
Swank stars as Betty Anne Waters, divorced mother of two boys and sister to Kenny (Rockwell). Kenny has been in jail for nearly 16 years, convicted of first-degree murder of a woman whose house Betty Anne and Kenny used to break into as kids for fun. In fact, Kenny has quite the rap sheet: from young delinquent to older man with a fiery temper, he's been a regular at the police station throughout his life. Yet despite his reputation, Betty Anne has the utmost faith in her brother. The film's title doesn't just represent Kenny's sentence, it's about Betty Anne's unwavering fortitude.
To see where the movie works and where it doesn't, just read more.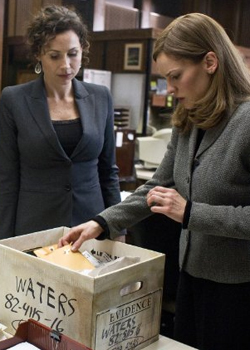 Betty Anne and Kenny are as close as two siblings can be, and they retain their friendship into adulthood after moving between foster homes as kids. It's the reason why Betty Anne is determined to free Kenny, despite his life sentence and the very strong evidence against him. She dedicates her life to him: first by finishing high school, then getting her BA, and then finally attending law school. As Kenny emotionally crumbles in jail, Betty Anne fights to keep enough optimism for both of them. It's a wonder that one woman could endure so much, especially when Kenny often doesn't deserve it. He's such a loud-mouthed, stubborn ass of a man that sometimes it's hard to see his redeeming qualities. She works incredibly hard for him, but he does seemingly nothing to help himself.
Told through a mix of events from past and present, Conviction jumps between Betty Anne's current time in law school to childhood flashbacks to Kenny's arrest. Despite the scattered structure, the story still retains fluidity, moving along at a nice pace. The film gets an added boost from Minnie Driver, whose blunt humor as Betty Anne's only friend prevents many of the scenes from getting bogged down in melodrama. But Swank and Rockwell are the ones who separate this film from just another movie on Lifetime. Both actors bring their all here, and it's difficult to tear yourself away from the scenes where they play off one another.
Unfortunately, the script doesn't quite match the talents of the lead actors. For a story that requires Swank to weep on cue (and she does often), there isn't as much as emotional payoff in Conviction as I had hoped. After witnessing Betty Anne's long, wrought journey, I expected a moment of catharsis — but that moment never came for me. It's a good story with great performances, but I wanted to be moved.