Review of Easy A Starring Emma Stone
Easy A: Gets High Marks in Charm
In Easy A, our heroine Olive Pendergast says she wants her life to be like a John Hughes movie. It's a lofty aspiration considering Hughes's reputation as the teen movie master, but it's one that the film unapologetically strives for with a playful wink. You have the alluring love interest à la Sixteen Candles (played here by Penn Badgley), Ferris Bueller-inspired shower karaoke, and a witty red-headed leading lady who is seemingly oblivious to her own coolness.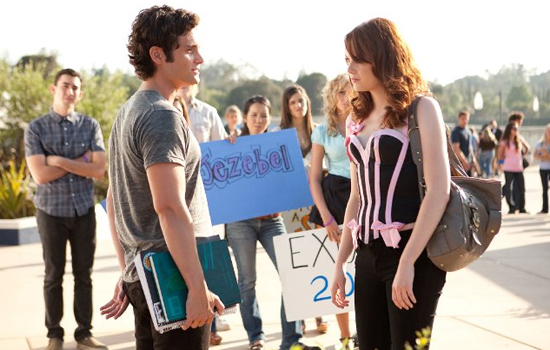 Emma Stone plays Olive, a teen homebody who's mistakenly branded as the school's own Hester Prynne after lying to her BFF (Aly Michalka) about losing her virginity. When the self-righteous religious club leader (Amanda Bynes) overhears, it's not long before everyone knows about Olive's supposed fling. Enter Brandon (Cougar Town's Dan Byrd), a bullied closeted gay student. Olive pretends to have sex with him to help his reputation, and she becomes the Mother Teresa of social outcasts, offering imaginary makeouts and boob fondling to help geeks up their popularity. When her charade spirals out of control, she's left without friends. To find out why I loved it,
.
Never before has Stone been required to carry a film, and she handles it with aplomb. The actress is perfectly convincing as a sharp-tongued girl who rattles off pop culture references as often as SAT words. Stone handles the vulnerability of her character's moral conflict (should she help others if it means hurting herself?) with ease, and of course it helps having an excellent ensemble to back her up. As Olive's parents, Stanley Tucci and Patricia Clarkson nearly steal the show as a goofy, loving couple who are genuinely friends with their daughter. Thomas Haden Church plays Olive's sarcastic, "cool" teacher, and Lisa Kudrow as his wife gets to be a guidance counselor who's delightfully crazy.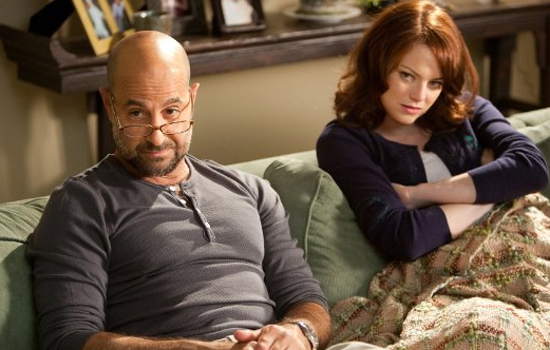 Thanks to its cast, the movie goes beyond your typical high school comedy, and even cutesy high school dialogue feels more endearing than irritating. It may not go down in history like the works of John Hughes, but in the company of more recent school movies, Easy A easily makes the grade.