Review of Eat Pray Love Starring Julia Roberts and Javier Bardem 2010-08-13 05:30:00
Eat Pray Love: Go Ahead, Indulge
In the big screen adaptation of Eat Pray Love, Julia Roberts lends her charm to the role of Liz Gilbert, an author who journeys to three different countries to find herself. The moments where we see glimpses of Liz's frustration and her loneliness are some of the movie's strongest, but the character is often overshadowed by the bigger focus of the film: the scenery.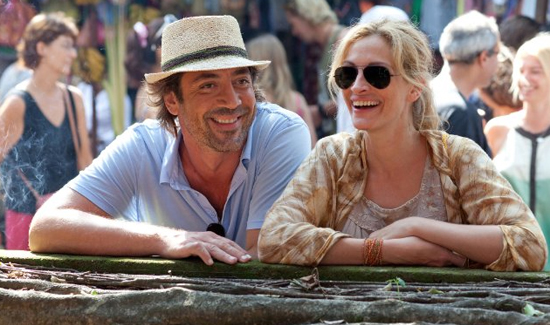 Indeed, Eat Pray Love is a love letter to travel. With one romantic setting after another, it's the sort of story that conjures up wistful dreams of adventures abroad and an appetite for life (and for food, naturally). For more on that, read more.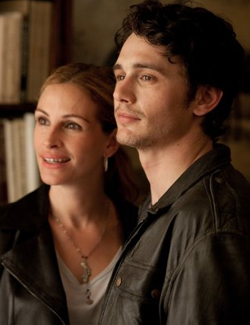 Elizabeth's story begins in New York. Realizing that she's no longer in love with her husband (Billy Crudup), she requests a divorce, and sets out to be single — which doesn't last, and she soon jumps into bed with a younger guy (James Franco). But when confusion about her current situation sets in, Elizabeth decides to take a trip to find herself; first, she'll eat her way through Italy, then journey to India to meditate in an ashram, and then to Bali, Indonesia. It's on the last stop that she meets Felipe (Javier Bardem), a Brazilian who forces her to confront her biggest fears about love.
The supporting men turn in nice performances, and director Ryan Murphy gives every scene a lush, theatrical quality (not to mention, Roberts's immense wardrobe left me with a hankering for the Anthropologie catalog). Unfortunately, the film is lacking a bit of oomph. With a hefty run-time of two and a half hours, the story sometimes drags and the film itself doesn't move the audience as much as it seems like it should. In the end it's a satisfying film, though you might be better off reading the book if you're seeking inspiration.
If you'd like to review a movie you've seen recently, check out the Movie Reviews Group in the BuzzSugar Community. I may even feature your critique on the site!
Photos courtesy Sony Pictures