Review of Get Him to the Greek Starring Jonah Hill and Russell Brand
Get Him to the Greek: Sex, Drugs, Rock. . . and Laughs
I've been admittedly on the fence about my feelings toward Russell Brand, but his hilarious performance in Get Him to the Greek has me firmly on board. Reprising his Forgetting Sarah Marshall role as Aldous Snow, Brand delivers the perfect parody of a rock star who's lost his way — both literally and figuratively. His Snow is manipulative, arrogant, and often jaw-droppingly offensive, but you still fall in love with him somewhere between the start of the adventure in England and the end in LA.
The film, which is directed by Sarah Marshall's Nicholas Stoller, kicks off with a look at the current state of Snow's career. After a successful run and seven years of sobriety, he hits rock bottom with the album "African Child" — a less-than-delicate look at the current state of affairs overseas. When Snow's turn as a self-proclaimed "African White Space Christ" causes an uproar and severe media backlash, he falls off the wagon and goes into hiding. Enter Aaron (Jonah Hill), a longtime fan of Aldous's who looks to give both his own sinking record company and Snow a boost with a special concert at LA's Greek theater. The problem, of course, is getting Snow from his home in England to LA in one piece.
To find out if their adventure is worth tagging along on, just read more.
The heart of the film can be found in Hill and Brand's near-perfect comedic chemistry. Aldous keeps Aaron on his toes in every sense, from derailing their travel plans to treating Aaron as his personal servant, and the back-and-forth is reflected in their banter as well. Both actors have mastered the art of delivering deadpan one-liners, and Snow's off-the-cuff British humor is well balanced with Aaron's blend of snark and awkwardly corny jokes.
Though the film's focus is on Brand and Hill, they've got outside support in spades. Sean "Diddy" Combs steals his fair share of scenes as Aaron's domineering boss Sergio, and Elisabeth Moss breaks way out of her Mad Men role as the girlfriend who learns of Aaron's drug-addled misadventures through various pocket calls from his phone. Their movie is also littered with celebrity cameos, but none of the supporting players hold a candle to Rose Byrne's performance as Jackie Q, Snow's sassy model/musician girlfriend who's just as ridiculous as he is. Byrne's Jackie is the perfect female counterpart, and I found myself wishing I could see more of her oversexed, over-the-top music videos.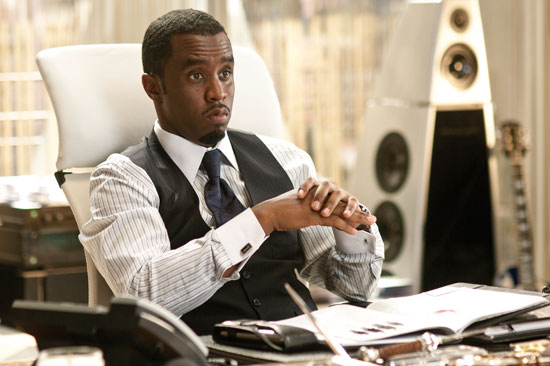 My biggest grievance with the film is that it starts to meander a bit in the middle. There's so much in-your-face partying going on that it feels a bit like the writers ran out of material and had to grasp at straws to keep pushing the envelope to unnecessary levels. Luckily, it finds its way back for an ending that left me feeling satisfied, but not before a few scenes that had me scratching me head (and wishing I could unsee a few things).
Get Him to the Greek is not a perfect comedy, but it is the perfect Summer kickoff comedy — and the one I'll expect we'll be hearing about (and quoting) until Christmas.