Review of Hot Tub Time Machine Starring John Cusack, Rob Corddry, Clark Duke, and Craig Robinson 2010-03-26 06:30:54
Hot Tub Time Machine: Offensively Funny
It's OK to be skeptical of the whole hot-tub-as-time-machine thing that is the plot of, ahem, Hot Tub Time Machine. The movie is aware of its own ridiculousness and quickly shepherds you past that little detail so you can let yourself go and thoroughly enjoy it. Being able to appreciate the absurdity of a sci-fi jacuzzi is the first thing you'll need to love this movie; the other thing? A highly dirty sense of humor.
John Cusack, Craig Robinson, and Rob Corddry star as three buddies who try to relive their glory days at the ski lodge they once ruled in the '80s. Clark Duke plays the nephew of Cusack's character, his youth serving to remind the three men of their age and dissatisfaction with their grown-up lives. The perfect storm of debauchery, alcohol, and a shorted hot tub control panel leads them to time travel to their former selves in 1986. It's unbelievably silly, but to see why I lost myself in the madness, just read more.
Like I said, you can't get hung up on the details of the plot, which include Chevy Chase as a spiritual time travel adviser of sorts, but you can get into the details of the '80s settings. Of course, you've got your tacky fluorescent '80s fashion and killer soundtrack, but the movie cleverly integrates common '80s movie conventions, like a ski patrol villain named Blaine (played by Sebastian Stan). In fact, the crazy plot twists (and abundance of bare breasts) sometimes make it feel like an actual movie from the Me Decade.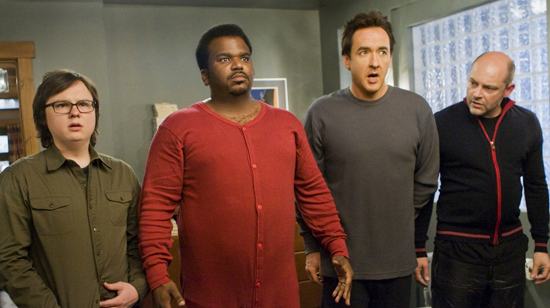 There are plenty of times that the movie goes too far, but it moves so quickly past each gag that you don't have time to squirm in some of the grosser scenes. What really makes it work, though, is the likability of the four guys. Corddry's Lou is so foul-mouthed a trucker would wince, but he's easily the most entertaining cast member. Cusack's presence is ironic, since he's the ultimate '80s heartthrob, but he's definitely still got it, while it's fantastic to see Duke and Robinson thriving outside of their small-screen shows (Greek and The Office, respectively).
Even if you don't love Hot Tub Time Machine, you have to respect the way everyone involved with the film — from the cast and crew, down to the props people — really went for it. To be sure, this isn't a movie for everyone, but for the many it is aimed at, it's a wild ride.