Review of Jonah Hex Starring Josh Brolin
Jonah Hex: A Hatchet Job
Jonah Hex (Josh Brolin) is one tough mother. A bounty killer, he saunters through small Western towns, dragging the dead behind him (whatever body parts his horse can't carry, he cuts up into pieces). His reputation precedes him wherever he goes, and whenever he leaves, buildings explode into a fiery blaze. But Hex is no villain — or at least, the movie doesn't want you to think so; he's just your gritty anti-hero searching for vengeance.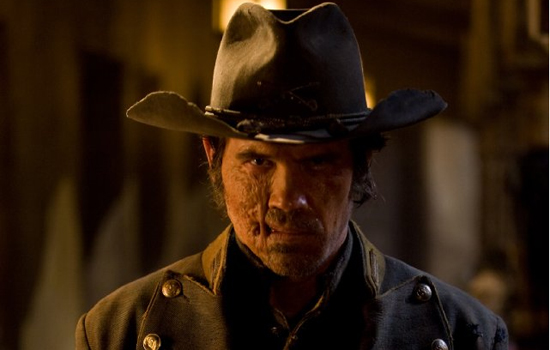 While it may not have web-slinging or spandex, Jonah Hex is actually based on a DC Comic. As the story goes, Hex is a Confederate soldier in the Civil War who killed the brother of his arch enemy Quentin Turnbull (John Malkovich). Because of his actions, an angry Turnbull comes after Hex, kills his wife and son, and then brands a giant hole into his face. As a result, Hex talks out of the side of his mouth, but Hex isn't the only who has a gaping hole to attend to — the movie itself has several. To hear what I mean, just
.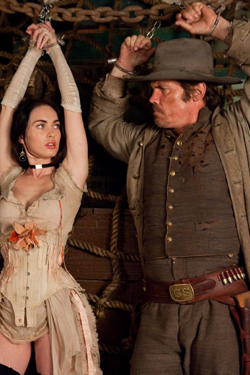 Because Hex nearly died after his incident with Turnbull, he can now talk to the dead (strange, I know, but go with me). Hex uses his new gift as a GPS; he wakes people from their grave and asks them to tell him where Turnbull is, so he can get revenge and murder his enemy. Luckily, the US government wants Turnbull's head, too. When a war weapon goes missing, they enlist Hex to track down Turnbull before he uses the machine to wipe out the entire country.
Every anti-hero needs a love interest, so Megan Fox appears as a prostitute who hooks up with Hex, but she's just a secondary thought. Will Arnett also cameos as one of the government lackeys, but his role feels like a misfire; you can't decide if he's supposed to be funny or serious. However, casting is the least of this movie's concerns.
Clocking in at under an hour and a half, the film should feel short and neat, but instead, it's like the victim of one of Hex's killing sprees: chopped up and messy. The camera shots often zoom in too tight on the character's faces, the lighting seems strangely inconsistent in a few instances, and despite the movie's best efforts to explain the plot, the story feels pieced together. Violence is also a major issue, and Jonah Hex never misses out on an opportunity to throw an ax at someone's chest (with heavy rock blaring, naturally). Perhaps it is all best summed up by a fellow reviewer sitting next to me in the theater, who yelled out a huffy "Christ!" during one particular scene.
The movie's one saving grace is Brolin, who has Hex's sneer down to a science. He manages to make Hex interesting, even when the movie itself is not.
If you'd like to review a movie you've seen recently, check out the Movie Reviews Group in community. I may even feature your critique on the site!
Photos courtesy of Warner Bros.