Review of The Joneses With David Duchovny and Demi Moore
The Joneses: Duchovny Has Me Sold
Let's face the facts: David Duchovny is irresistible. From The X-Files to Californication, the man has charisma to spare, which is why he seamlessly steps into the shoes of salesman Steve in The Joneses. But Steve is not your smarmy, run-of-the-mill clerk wearing a cheesy smile at a car dealership — at least not anymore.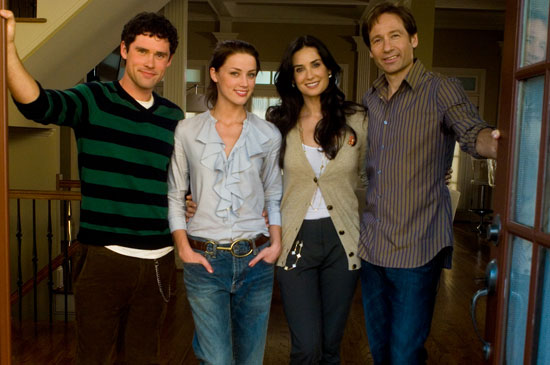 Along with his "wife," Kate (Demi Moore), and teenage "kids," Jenn (Amber Heard) and Mick (Ben Hollingsworth), Steve poses as the patriarch whom all yuppies envy. He makes a living convincing his peers to buy the material objects that put his life together so perfectly — from his hot Audi to his golf clubs to his lawn mower. The same goes for the rest of the family — each member has been handpicked, armed with loads of designer goods, and trained to sell, sell, sell.
Though the foursome is annoyingly flawless on the surface, there's a lot more than meets the eye. Each member comes equipped with his/her own emotional baggage, causing the facade to slowly fall apart. To see what I mean, just
.
The Joneses is very well-cast, but David Duchovny steals the show here. As the newest member of the unit (and the job in general), he brings just the right amount of charisma to "lifestyle marketer" Steve, without going over the top. The Joneses are the characters you're supposed to love to hate, but there's not much to dislike about Duchovny, particularly when he sweetly starts pursuing Kate and tries his hardest to turn his coworkers into a real family.
Much like actors, the job starts to wear thin on the Joneses' personal lives. Mick struggles to connect to students who aren't just "drinking his Kool-Aid" (which is how his one friend Naomi describes to his effect). Jenn's attraction to older, married men doesn't exactly fit the Joneses' cookie-cutter image. Each family member is leading a double life, and the message here is obvious: money doesn't buy everything.
Like the Joneses themselves, some of the movie's social commentary is shoved down your throat (we learn just how bad greed and jealousy can be with a particularly grisly scene), but the underlying observations about the importance of personal relationships ring much clearer. It's not Steve's fancy home and gadgets that you can relate to; it's watching him eat his meals alone at a table for 12.
In the grand scheme of life, money may not buy you happiness — but it can buy you a couple of hours' worth of entertainment at the box office this weekend.
Photos courtesy of Roadside Attractions