Review of Meskada From 2010 Tribeca Film Festival
Tribeca Take Away: Meskada
The Tribeca Film Festival is rolling on in NYC, and this morning I was up bright and early to check out the promised Kellan Lutz shirtlessness in Meskada. Read on to see my review of the movie — and Kellan's abs.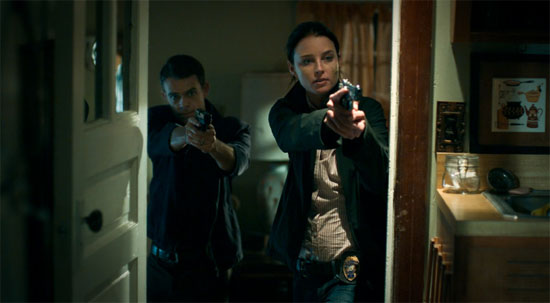 Who's behind it? Josh Sternfeld, whose first feature Winter Solstice debuted during the 2004 Tribeca festival, both wrote and directed the film. Nick Stahl plays the lead role, with supporting performances from Kellan Lutz, GI Joe's Rachel Nichols, Norman Reedus, and Grace Gummer (one of Meryl Streep's actress daughters).
What's it about? Nick Stahl plays Noah Cordin, a detective in the rural but prosperous town of Hilliard. Noah is responsible for investigating the murder of a young boy during a botched robbery committed by Eddie (Kellan Lutz) and Shane (Jonathan Tucker). Higher-ups in the Meskada County police department send in an attractive lady detective to help Noah in the form of Leslie (Rachel Nichols). Eddie and Shane, meanwhile, return to their downtrodden village of Craswell, which also happens to be Noah's hometown. Craswell had been on the brink of revitalization with the promised arrival of a new factory and hundreds of jobs, but their collective future gets thrown into question when parties interested in the case flex their powerful muscles.
To see how I feel about the film, just read more.
What did I think? I had my doubts about Kellan's acting abilities before seeing this film, and unfortunately my predictions were true — the scenes of him smoking, in which he inhales but curiously never exhales, are particularly painful. But this isn't a review of just Kellan, it's of the whole film. Meskada clocks in at a concise 89 minutes, but it felt even longer. The plot centers around the privileged citizens of Hilliard coming face-to-face with the have-nots of Craswell, but it's hard to muster the will to care after sitting through Sternfeld's meandering, directionless scenes. Rachel Nichols isn't charged with much more than just standing there and looking pretty, though she takes a few ultimately pointless punches to the face in the line of duty. It's a pretty forgettable mess, but it's not standing in Kellan's way since he keeps lining up new roles. Grace Gummer shouldn't spend too much time worrying about this picture either, as she's also nabbed a part in Tom Hanks's Larry Crowne.
Were there gratuitous shots of Kellan's abs? No! Despite the promise of shirtlessness, we didn't even get to see four parts of Kellan's six-pack. The movie's sole love scene is between Kellan and Grace, and not only did it contain a paltry amount of abs, it was mostly just awkward.