Review of Movie The Lovely Bones, Starring Saoirse Ronan, Stanley Tucci, Mark Wahlberg, Rachel Weisz
The Lovely Bones: A Fractured Fairy Tale
I've long questioned Hollywood's desire to bring Alice Sebold's novel The Lovely Bones to the big screen. The book itself delicately straddles tragedy and beauty in its first-person account of a 14-year-old girl who is murdered and watches her family's unraveling from Heaven. Though I held out hope that Peter Jackson would be able to balance the same themes, it was all for naught: his big-screen version of The Lovely Bones is ambitious, but irredeemably disturbing.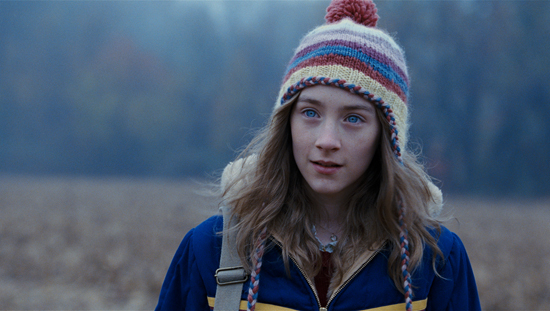 I'd heard that Jackson left out the fact that his main character, Susie Salmon (played by Saoirse Ronan), is raped in the book, and that the murder occurs offscreen, which made a certain amount of sense — it's not necessary to show either to convince you that her ordeal is terrifying. But after seeing the film, it baffles me that Jackson chose to include other grisly scenes and imagery. What's even more questionable is the portrayal of Susie's "in-between" — her purgatory on the way to Heaven that's sometimes a perfect world and other times hellish.
Had Jackson chosen instead to focus on the ordeal of the Salmon family after Susie's departure — the most compelling part of the movie — I think he would have had a chance at making something more powerful. To see what I mean, just
.
Susie's cartoonish in-between detracts from the performances of her family members back on earth, particularly Mark Wahlberg's. As her anguished father who is coping with Susie's murder by hunting for clues, Wahlberg impresses more than costar Stanley Tucci, who earned a Golden Globe nomination for the role. Tucci's portrayal of Mr. Harvey, I'm sad to say, goes over the top — with his obvious wig, facial prosthetics and unintentionally goofy laugh, it borders on caricature.
Susan Sarandon appears solely to steal scenes as the family's pill-popping, boozehound Grandma, imparting a lightness on the film that Susie's world tries for, but fails to convey. Indeed, when the focus shifts away from the supernatural to document the fissures that afflict the Salmon family, we get somewhere. Just as quickly, though, those scenes of substance are pulled away from you, and we're back to Susie's confounding half-life.
Instead of spending so much time on a nightmarish land of CGI, Jackson should have worried more about giving the characters more satisfying scenes of closure — that's what would have made the audience feel better about Susie's fate.
Photo courtesy of Dreamworks