Review of the Pilot For Hellcats
Pilot Scoop: Hellcats
Now that I've given you a taste of the new shows coming this Fall, I've had a chance to actually watch the pilots for most of the newbies. You can only assess so much from promos and photos, so it's time to share my thoughts on each of the show's series premieres. First is The CW's new cheerleading series, Hellcats.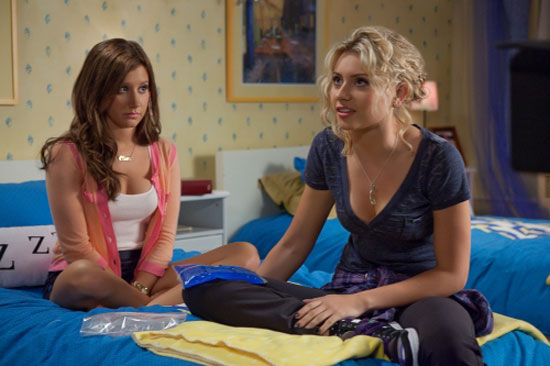 What it's about: Marti (Alyson Michalka) is a pre-law student who spends her time making fun of cheerleaders (like Savannah, played by Ashley Tisdale) when she's not studying. Her world is rocked when her mother can't afford to pay her tuition, forcing her to take desperate measures to stay in school. When she learns that she can earn money with an "unconventional scholarship," Marti finds herself trying out for the cheering squad, and eventually immersing herself in a world she used to scoff at.
Where it works: Riding the success of Glee, High School Musical, and Bring It On, Hellcats embodies that cheesy variety show vibe you can't help but love. Even in the midst of cringe-worthy dialogue and stereotypical characters, the cheering routines and dance sequences are so much fun to watch. Plus, this is The CW, and the show is a perfect fit for the network's demographic.
Where it doesn't: Hellcats has fun moments, but it's also severely lacking a fresh angle. Like I said, it borrows elements from a lot of things we've seen before, but doesn't really add a new twist. The pilot also tries so hard to establish Marti as the edgy, cynical girl, from her leather jacket to her fingerless gloves.
Am I hooked? I'll give it a few episodes to pick up, but I just don't know if I'm getting anything from the intersquad drama that's any different from other CW shows.
For more photos and a video sneak peek, just
.
Photos courtesy of The CW