Review of the Pilot For New CBS Drama Blue Bloods
Pilot Scoop: Blue Bloods
I'm totally changing gears here with the Fall TV pilots, and switching from my assessment of Hellcats to something heavier: CBS's new drama, Blue Bloods.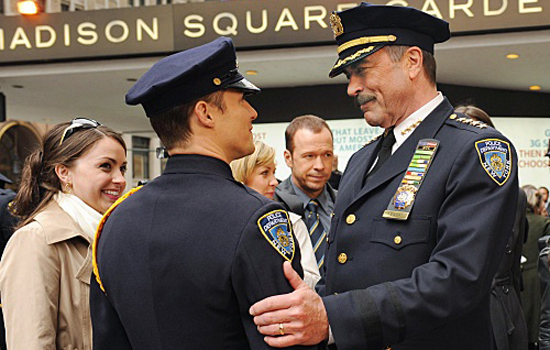 What it's about: The Reagans have served the NYPD for multiple generations: grandfather Henry (Len Cariou) was the chief of police, his son Frank (Tom Selleck) is currently in the job, and Frank's children Danny (Donnie Wahlberg) and Erin (Bridget Moynahan) also maintain law and order (as a detective and an assistant D.A., respectively). Now, the youngest of the household, Jamie (Will Estes), is being welcomed into the fold, having just graduated from the police academy. The family members butt heads, but ultimately try to help each other out when it comes to solving a hard-to-crack case.
Where it works: The show has the same writing team as The Sopranos, so what more do you need? I don't care much about the actual episode-to-episode police cases — that's why you have every other procedural drama on television — but the family relationships here really hit a nice chord. The pilot sets up who each Reagan is (without giving away too much), and a surprise twist with a police conspiracy should keep viewers invested beyond just the first few weeks.
Where it doesn't: A couple of the characters feel clichéd, specifically Danny, who is the hot-tempered cop that's not afraid to take drastic measures for justice. He has a sweeter, family-man side to help round him out, but I still feel like we've seen this over-the-top type before.
Am I hooked? Definitely. I enjoy seeing the family interact (not to mention, Estes is nice to look at), and the pilot sets up enough suspense that I'm already dying to see the second episode.
To see a promo and more photos, just
.
Photos courtesy of CBS