Review of the Pilot For New NBC Drama The Event
Pilot Scoop: The Event
I've been sharing my thoughts about the TV pilots coming at you this Fall, and today, I'd like to examine a new series that's big on hype (though its plot is still pretty hush-hush): NBC's The Event. I won't reveal too much — don't want to spoil anything! — but here are the basics.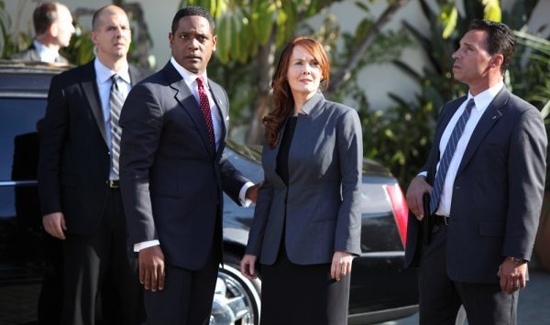 What it's about: Told through multiple storylines, The Event follows the president of the United States, Elias Martinez (Blair Underwood), as he discovers a government cover-up that's been kept hidden by one of his advisers (Zeljko Ivanek). Meanwhile, a guy named Sean Walker (Jason Ritter) gets caught up in the secret when his fiancee-to-be (Sarah Roemer) mysteriously vanishes on a cruise.
Where it works: The pilot creates enough suspense to get you hooked, and it delivers at least one jaw-dropping twist. The ensemble of actors may be one of the best that the new Fall season has to offer (I get chills at just the sight of Ivanek), and Ritter proves he can handle the bulk of the series as the sympathetic everyman.
Where it doesn't: Will viewers be able to keep up? With multiple puzzle pieces and conspiracy theories to be had, this definitely requires dedication week to week due to its complexity. Some critics are already concerned that it will go the way of FlashForward and lose audience interest.
Am I hooked? Yes! The pilot ends with a juicy cliffhanger that's guaranteed to make me come back for more. I just question if I'm ready to subject my brain to yet another mind-bending series (it's still recuperating from Lost).
For photos and a video promo, just read more.