Review of Please Give Starring Catherine Keener
Please Give: Generous With Social Critique, Laughs
Movies can often leave us feeling entertained, uplifted, silly — but it's not every day that you find one that makes you think. Enter Please Give, the latest from director Nicole Holofcener (Friends With Money, Lovely and Amazing). In a world of films with paper-thin plots, Holofcener once again raises her discerning magnifying glass, examining age-old themes of conscience and societal responsibility in a way that feels fresh.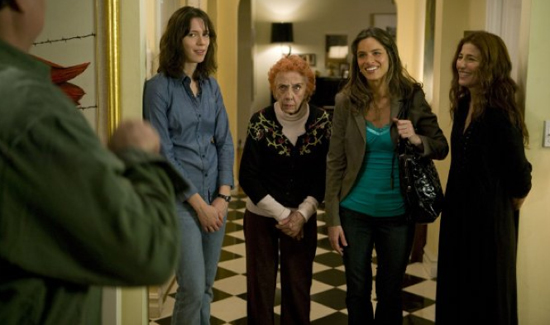 At the center of her story is Kate (Catherine Keener), the owner of a high-end resale furniture store in Manhattan. She makes her living by, as her husband Alex (Oliver Platt) puts it, getting unusual antiques from "the children of dead people" and marking them up for a lofty price. She tries to overcompensate for her actions by passing out twenties to the homeless taking residence on her street. It's a give-and-take driven by her guilt that it drives her family crazy, especially teenage daughter Abby (Sarah Steele). Kate is complicated, flawed and often irritating, but for the audience her moral dilemma feels all too relatable — and it's pretty comical, too.
To see what I mean,
.
For Kate's latest pet project, she decides to be nicer to Andra (a very funny Ann Guilbert), her hard of hearing, elderly next-door neighbor. Kate is waiting for Andra to keel over so she can take over her apartment, and thereby expand their own living quarters. That's the reality of the matter, but Kate still tries to make a genuine effort with Andra. As such, she offers to get her groceries and throws her a birthday party.
Andra's granddaughters Mary (Amanda Peet) and Rebecca (Rebecca Hall) see through Kate's act, but they're dealing with their own sense of obligation when it comes to their grandmother. Rebecca goes the route of dutiful relative, waiting on Andra hand and foot, while Mary prefers to focus on her own life. Mary and Rebecca are on polar opposite ends of the selfishness spectrum, and neither one is completely happy. Which is the question the film ultimately poses — how do we always give to others, while still keeping some for ourselves?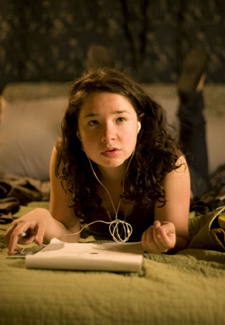 Please Give attempts to provide some answers, but it does so with humor. Catherine Keener is excellent here (as always), Platt takes a character who does unlikeable things and still somehow seems forgivable, and Sarah Steele's performance is also worth noting.
It's a film that sets a shining example of what happens when great actors are given a genuinely good script. The result isn't flashy or loud — and if you're looking for entertainment escapism on a Friday night, it may not even be your best choice. But it's charming and smart, the feel of a simplistic indie film done on a larger scale. I liked it so much, I may even go back for a second helping.
If you'd like to review a movie you've seen recently, check out the Movie Reviews Group in community. I may even feature your critique on the site!
Photos courtesy of Sony Pictures Classics