Review and Recap of 90210 Episode "Clark Raving Mad"
90210 "Clark Raving Mad": Most Scandalous Moments
Even though this week's 90210 is fairly predictable, it does raise a lot of questions for me: Will Debbie cheat? Why is Teddy lifting weights outside? And most importantly, what is a Steinem? (OK, just kidding about the last one.)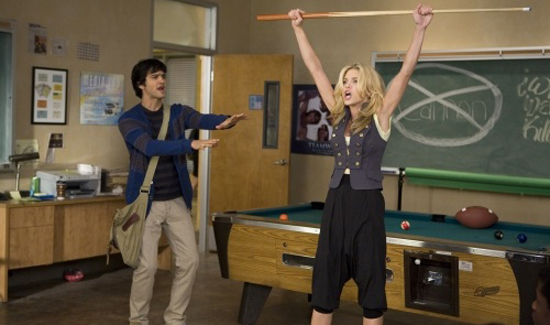 Trust and lies are the name of the game here: Naomi fibs about getting sexually harassed, Silver is still having a hard time with Teddy's groupies, and Debbie's dreamy yoga guru finally makes his move. All of the characters are tested, but who makes good choices — and who is in a whole lot of trouble? Let's go over the highlights (spoilers ahead) when you
.
Naomi makes false accusations about Mr. Cannon. After wise-ass remarks get Naomi kicked off The Blaze, she's fuming mad at the faculty adviser, Mr. Cannon. When her friends aren't 100 percent behind her, she lies, saying that Mr. Cannon said he'd let her back — if she sleeps with him (a twist of his words, since he thought that's what she was insinuating). It builds to Naomi demanding a strike with a pool cue (Union! Union!), and Mr. Cannon agreeing to her rejoining the team. But despite getting good results, it's too late, because now Silver, Adrianna, and Liam want to stick Mr. Cannon with sexual harassment.

Gia asks Adrianna out. Gia's admission of her crush has Adrianna in a head fog, as she tries to decipher what it means. Is she gay if she returns her feelings? After some bad (Naomi) and good (Silver) advice from friends, she decides to explore by kissing Gia again — and she likes it. Furthermore, they're even planning a date.
Teddy gets drunk with his ex. After last week's trust issues, Teddy tests the waters even more by admitting to a wild night with an ex. Silver plays it cool, but she's obviously angry. Teddy suggests that maybe she's right — perhaps he is doomed to cheat — but that he'd hate himself if he did. Her reply: she trusts him. It's a nice moment, but something tells me this mutual trust thing won't last long.
Liam catches his stepdad cheating. Liam eyes his stepfather, Jeffrey, making out with a bimbo, and soon after punches him in the face for it. His mother helps break it up, but after learning the truth, she decides to stay with Jeffrey. Just another notch on the "reasons to hate Jeffrey" list, but speaking of Liam, are you sensing that Annie may be developing a crush on the guy? Or is it just because he's protective and nice, and Jasper's, well, psycho?
Kai kisses Debbie — and Dana sees it. Yet another illicit smooch! Debbie has tea at a sidewalk cafe with her hot yoga instructor, he listens to her intently (could he lean in any farther?!), and then he goes in for a kiss. Debbie turns him away, but it's too late because Dana has already witnessed the kiss from across the street. She confronts Debbie about it, and actually suggests that Debbie shouldn't tell Harry. What do you think Debbie will/should do?
On a final note, is Jasper committing suicide? The episode ends with him alluding to it, and that would be one way for him to leave the show. Still, I can't imagine that will just be it, can you? Tell me your thoughts in the comments, or head over to the 90210 Superfans group in the Buzz Community to chat some more.
Photos courtesy of The CW