Review and Recap of Desperate Housewives Episode "My Two Young Men"
Desperate Housewives Rundown, "My Two Young Men"
If this week's Desperate Housewives is a preview of what's to come with the season finale, then it looks like we're headed to a wedding and a funeral. You have two very sneaky men lurking around Wisteria Lane — and at least one has a murderous side. But if Preston gets his way and marries Irina, Lynette may just kill a person or two, herself!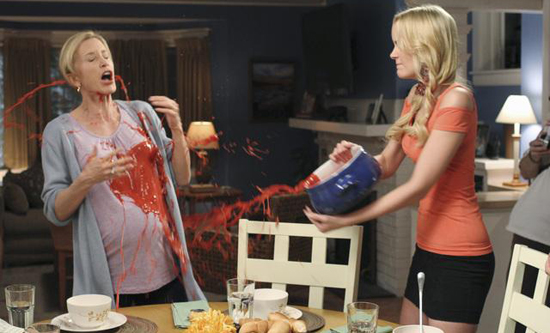 One character actually says goodbye to such drama by packing a suitcase and leaving the ladies of the cul-de-sac. Well, for now, at least. Who is it? Jump right in to find out (warning: spoilers ahead) when you
.
What is Sam's deal?! The supposed illegitimate son of Rex causes more strife for the Van de Camps, as Bree takes to him like the perfect child she never had (sorry, Andrew and Danielle). The real kicker is when he tells Bree that he plays guitar — just like his dad, what a coincidence! — and she offers up Rex's old instrument. Andrew gets furious and smashes it against the fireplace, but Orson isn't exactly convinced, either, and tells Andrew to do a little digging. I, for one, cannot wait to see what turns up — did you catch that creepy smirk on Sam's face as he was listening in on Bree and Orson?
Preston is still rocking that porn 'stache. Even worse, he and Irina are bumping up their wedding date, which has Lynette furious. First, she catches Preston and Irina sneaking in sex under her roof. Then, Preston informs his parents that he and Irina are moving into their own place, and he's forgoing college to be a gutter at a meatpacking factory. You can imagine Lynette's fury, which climaxes with Irina throwing a bowl of borscht all over Lynette's blouse. This is obviously headed toward disaster, but will the wedding happen or get thwarted beforehand?
Katherine is in a bind when Robin wants to attend a party for Karen McCluskey as a couple. A paranoid Katherine goes, but only under the guise of being roommates. The two women get into a jealous lover's quarrel during a badly timed moment of silence, and their lesbian secret is revealed. Katherine is mortified, so Mrs. McCluskey gives her the advice to forget what people think or to go somewhere people don't care. Which is what Katherine decides. She picks up her bags with Robin and the two leave Wisteria Lane.
Susan and Gaby get embroiled in a mommy war when both of their kids enter the school's chocolate selling contest. The gloves come off as Gaby tries to pass off the candy to construction workers in a skintight skirt (and, as Susan puts it, with "a cold wind, no bra"), and Susan has MJ fake a handicap. But once Susan realizes that all Juanita really wants is for Gaby to be proud, she convinces MJ to step down, so Juanita wins. It solves Juanita's problems for the time being, but will Gaby ever realize that she only wants her affection?
Angie's ex, Patrick Logan, is coming back in a big way. He shows up at the house of Rose's neighbor Iris and strangles her to keep his plot secret (anyone else reminded of those awful Broadview Home Security ads when he smashes her window?). Meanwhile, Angie tells Nick that Danny never has to know about his real father, since Nick has always been there. Too bad then that Patrick arrives toward the end of the episode, leering on as Danny hops into his car. You just know that Angie's gun is going to come back into play.
What did you think of the episode? Any guesses as to Sam's real motives? And will Patrick kill Angie — or go after Nick (or both)? Share you hypothesis in the comments, or head over to the Desperate Housewives Fans group in Community to chat some more.
Photo copyright 2010 ABC, Inc.