Review and Recap of Desperate Housewives "This Glamorous Life" Episode
Desperate Housewives Rundown, "The Glamorous Life"
While many of us were all wrapped up in Grammy hoopla, the ladies of Wisteria Lane were stirring up a little trouble of their own. This week lots of relationships were strengthened: Lynette and Tom's, Bree and Orson's, um, Danny and Ana's. . . meanwhile, Angie showed off more of her angry streak as we continue to inch closer to learning the Bolens' big secret.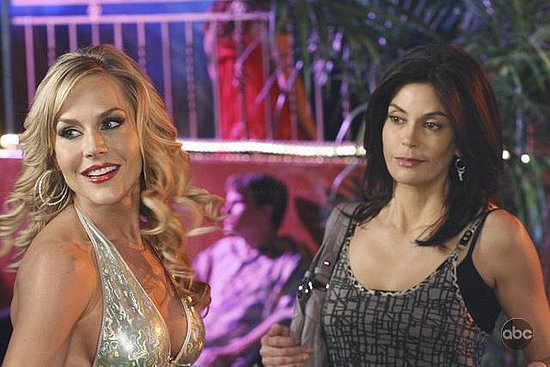 Ready to discuss? Dive into the spoilers when you
.
Bree: Bree is confused when Orson suddenly seems peaceful and apathetic about his condition and starts giving away all of his stuff. The truth comes out when she finds Orson's suicide note (or should I say "suicide rough draft"?), and quickly "forbids" him from killing himself (shocker). The rest of their little dance is black comedy, as Orson heckles a pair of handicapped men Bree brings to the house to make him feel better. Their situation comes to a head at an anniversary party, when Bree realizes she wants a future with Orson just as Orson is about to steer his wheelchair into the pool. Though Bree admits that she's not currently in love with him, she wants to try to get back what they once had, and they share a damn good kiss. I'd love to see Bree and Orson back to their wacky-but-believable chemistry — they were a lot more fun when they cared about each other.
Angie and Gaby: Angie and Gaby are at odds about whether or not they need to impart words of wisdom about safe sex to Danny and Ana. Angie thinks it's Gaby's job to set Ana straight about birth control since the kids will do what they want regardless of what their parents say, but Carlos has his own opinion. Once Carlos plants the idea of another baby in the house in Gaby's mind, she bribes Ana into chastity. Of course, that doesn't stop Ana from fooling around with Danny — on Gaby's couch, no less (how dumb are they? That's what backseats are for!). Naturally, Carlos walks in and promptly puts Danny in a choke hold. Angie's temper comes to a boiling point when she witnesses the spat through the window, and puts her own claim on Carlos's life. Though everyone gets out unharmed (well, except for one of the Solises' vases), Angie is clearly bent out of shape. Later, Carlos and Gaby head over to the Bolens to make peace when they eavesdrop on Nick having words with Angie — about not blowing their cover. The episode ends with Gaby and Angie narrowing their eyes at each other, and it can't be long now before the Bolens' past starts to unravel. Who knew all it would take is a little makeout sesh between Danny and Ana to put the pressure on?
Susan: While cutting ties with her brief ownership of "Double Ds," Susan chats up one of the employees and inadvertently convinces her to quit stripping and pursue her dreams. At first, Susan is thrilled to see Robin on Wisteria Lane — until Robin declares Susan her new role model. Instead of panicking in typical Susan fashion, she lands Robin a job as her assistant at school. Unfortunately, the father of a student recognizes Robin and she's fired after only one day (that's got to be illegal in some way, right?). Susan convinces Mike to let Robin move in, much to MJ's delight (was anyone else creeped out by the way MJ asks Robin to give him a bath?). I can't wait to see where this one goes — I just hope she doesn't try to seduce Mike since we've had more than our fair share of Mike relationship issues already this season.
Lynette: Though she's agreed to couple's therapy, Lynette is convinced that their therapist is favoring Tom over her. Tom doesn't help matters when he convinces Lynette to check out Dr. Graham's stint in community theater. As it turns out, Dr. Graham can't act her way out of cardboard box, and Lynette makes up her mind that she and Tom need to find a new doctor, even though Tom disagrees. The truth comes pouring out at their next therapy session, with Lynette unleashing all her feelings on Dr. Graham. Eventually, the conversation turns into a discussion about why Lynette always has to be the "bad cop" while Tom is the "good cop." Tom admits that he enjoys being well-liked, but they have a breakthrough about their issue and Lynette decides that she thinks Dr. Graham is a "wonderful therapist" after all.
What'd you think of this week's episode? I was happy to see some plot movements without a ton of over-the-top ridiculousness, and I love that Gaby and Angie are being pinned against each other. Do you think Bree and Orson still have a chance? Will Ana and Danny's relationship bring the Bolens out of secrecy?
Photo copyright 2010, ABC, Inc.