Review and Recap of House Episode "5 to 9"
House Rundown, "5 to 9"
This week's House is all about Cuddy! The show follows the harried single mom through a particularly stressful day at Princeton Plainsboro, and as such, we see the entire series of events from her perspective for a change a la the "Wilson" episode. My verdict: the woman is majorly ruthless. I knew it took big brass ones to deal with House, but she uses that same tenacity to negotiate with an insurance company and a thieving employee.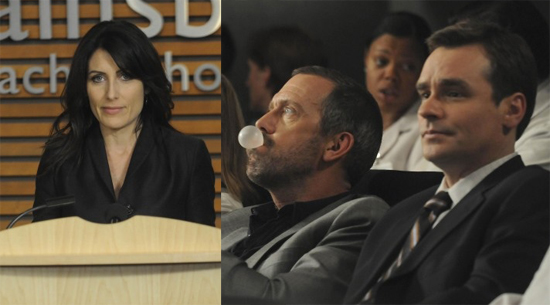 Not only did I enjoy the switch from the usual patient diagnosis formula, but it also raises a few interesting thoughts. Let's go over some key highlights when you
.
I had no idea that Cuddy did so much work! We usually see her putting out fires with House, but this time around, we realize that she's having to keep the peace with everyone. I don't know how she does her job and puts up with House's juvenile antics. Did this episode give you a new appreciation for her?
What did you think about the single, multitasking mom angle? Props to the show for depicting a woman trying to "have it all," but somehow it seems borderline cliche — especially when she's taking care of her sick child in a ridiculously low-cut shirt.
I didn't believe for one second that Cuddy was actually going to quit the teaching hospital, did you? Still, it makes you wonder if they are trying to set her up for a spinoff.
Favorite House line of the night: "Ever notice how many porn sites have 'Mom' in the main domain name?" Oh, House, is your mind ever not in the gutter? Another great moment, courtesy of the doc: the massage station.
I would've loved to have seen more from the pharmacy tech Gail who stole $50,000 worth of drugs. What a nutjob!
Lucas kind of got on my nerves this week. He tells House about their sex life (!), he shows up for a quickie with Cuddy even though she's been running around all morning, and he can't even remember to turn the phone back on after a nap. She's just too mature for him (though he did come in handy for that flower microphone). Do you agree, or do you still like them together?
Did we really need that overly dramatized "yes!" scream after Cuddy got her 12 percent? I'm happy for her (come on, we knew she would succeed), but that was over the top.
So did you enjoy the deviation from the usual House episode? Has Cuddy proven herself worthy of her own show? Share your thoughts in the comments, or head over to the House! group to talk more.
Photos courtesy of Fox