Review and Recap of House Episode "Black Hole"
House Rundown, "Black Hole"
This week on House, we deal with issues of trust in relationships, along with a head-scratcher of a medical case. My verdict: it makes for one really solid episode.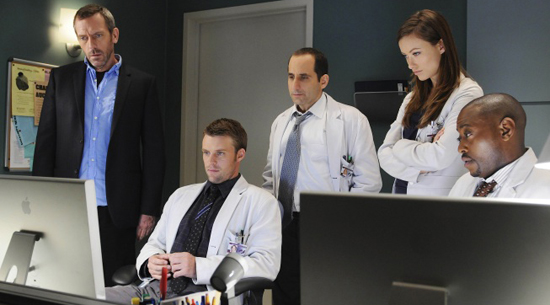 A high school senior is brought into Princeton-Plainsboro after she stops breathing and regurgitates liquid during a field trip. Not a pretty picture, but then again, neither is her bloody heart surgery (ick). As the docs race the clock to find the source, all scientific means turn up short, and they have to resort to newfangled methods.
On the other end of things, Taub is going through some trouble with the missus after she complains that they don't do enough together. He spends the rest of the episode making it up to her — but by the end we're left wondering if his intentions are pure.
But enough of the chitchat, let's talk questions. Just
.
In the latest edition of "ways House can annoy Wilson," House suggests that Wilson buy some furniture for their bachelor pad. When Wilson concedes — albeit, by taking the shortcut and renting — House returns all of it. The wise doctor's reasoning: Wilson needs to pick out the pieces himself to figure out who he really is. I thought House was being a little pushy about his "lesson," but how cute is it when Wilson includes an organ for House in his newly decorated room? It's a nice, bromantic moment for the odd couple, but do you think Wilson lets House control him too much? I do.
Anyone else incredibly frustrated by Foreman in this episode? He shoots down every one of House's suggestions with his holier-than-thou attitude. I agree with the rest of the gang — he's a total buzz kill. Where is his brother anyway? At least that storyline let us see more of his human side.
I enjoyed seeing Taub's home life in this episode, even if it doesn't necessarily paint him as a good guy. When his wife complains about not doing things together, he begins texting her from work...as in, sexting. Okay, okay, so it's really House on Taub's phone. That part had me chuckling, but House continues to have his suspicions that Taub may be straying, and like usual, House's gut seems to be right. Even though Taub re-proposes (telling her he wants to be better, aww), the show closes with Taub being friendly with a nurse while House looks on with a critical stare. Do you think Taub is cheating, or is House just reading too much into things this time?
Creepy kid alert! How freaky are the imagined younger versions of this week's patient? Her visions completely remind me of The Ring. Do you enjoy this sort of horror slant, or would you rather the writers stick to basics?
Speaking of the patient, her case seems even more intriguing than typical. I love the cognitive power recognition testing, as we try to solve what's killing her. House figures out — using a mix of intuition and assumption — that the girl's boyfriend's father actually slept with the girl, passing on a parasite through his sperm. It appears to be a giant leap in reasoning, but House is right, of course. Were you surprised? I didn't see it coming at all.
Anything I missed from this week's episode? Did you like the medical case? How about the focus on Taub? Tell me your thoughts in the comments (and please help answer some of my questions!), or head over to the House! group to talk more.
Photo courtesy of Fox