Review and Recap of House Episode "The Down Low"
House Rundown, "The Down Low"
House is back (thank goodness!) and delivered an episode that was definitely worth the long Winter break. This week sees the beginnings of House and Wilson's domesticity and, yes, addresses their similarities to an old gay couple (to quote House, "We're two tigers away from Vegas" ha!). The whole scenario had me cracking up, but it was the patient that kept me guessing. Best of all: there isn't a single inkling of sexual tension between House and Cuddy for once. I needed a breather from that storyline, didn't you?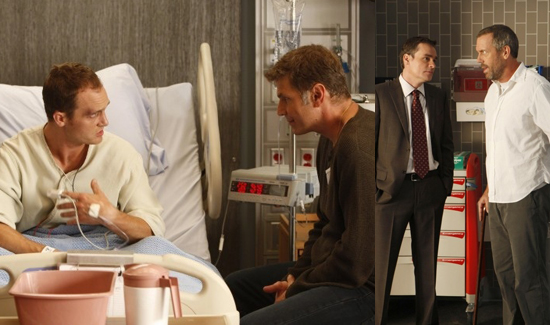 I hope that the writers keep up the good work, but for now, let's examine everything that happened (and the questions it raised in my mind) when you
.
This was yet another week when I thought, how the heck did House figure that out? There are even more twists than usual, between the patient Mickey's diagnosis (from toxins in his fat cells to an autoimmune disease) and Mickey himself (from supposed drug dealer to undercover cop). And when House pinpoints that he had bugged the room, too — how did he know?
Did you recognize Ethan Embry as Mickey? What a change from Can't Hardly Wait!
I loved House's ribbing on Chase's haircut ("Cameron get your hair in the divorce?"), but I sensed a bit of sexual tension between Chase and Thirteen when they're in the car for their "stakeout" — is that just me?
I jumped when I thought they were introducing a love interest for Wilson with new neighbor Nora (is it bad that I recognize her from Dawson's Creek?). Unfortunately, House makes her believe that they're gay to toy with Wilson and get into her pants. The whole mockery was hilarious to watch (an Evita listening party!) but kind of a letdown. Way to ruin it for Wilson, House. Hopefully it isn't the last we've seen of her.
Speaking of their Ambiguously Gay Duo routine, how perfect is Wilson's fake proposal? House deserves a taste of his own medicine sometimes.
What did you think about the back and forth games between Foreman and the team? I really thought they pulled the wool over Foreman's eyes by convincing him that they made more, but the joke is on them. Did you see that twist coming?
The faux Jack Bauer interrogation scene = AMAZING.
The writers really set up a question of morality, so let's get deep for a sec. Who do you think is worse: the drug-dealing associate for living a life of crime or the undercover cop for seeing to his arrest (even after his friend risks his own life to make him healthy)?
I can't wait to hear your thoughts about the episode — it's been way too long! So please, share your comments or head over to the House! group to chat some more.
Photos courtesy of Fox