Review and Recap of House Episode "Moving the Chains"
House Rundown, "Moving the Chains"
This week's House gave us a glimpse into the personal life of Foreman with the arrival of his straight-outta-jail brother Marcus (Orlando Jones). House, always the meddler, decides to bring the two guys together by hiring Marcus as his assistant — and of course, multiple jokes at Foreman's expense ensue. But is House just trying to get back at Foreman and, as he puts it, screw with him? Or are his intentions pure?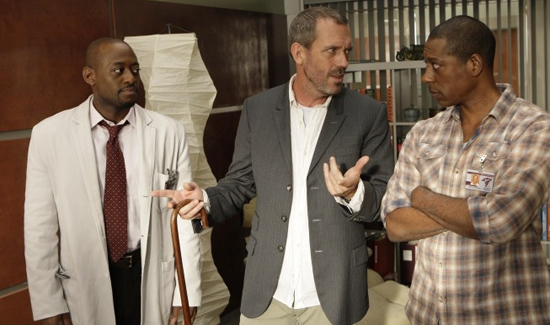 That's the dilemma that Wilson seems most curious to answer in the episode, and the show raised several questions for me, as well. Ready to take a look (and share your thoughts)? Just
.
The scenes with Foreman and Marcus are the highlight of this episode for me. But why didn't Foreman tell anyone about his mother's death? You know there has to be more story there about his history with his mom, and I'd be curious to explore it. Perhaps they should keep Marcus around — would you like to see him as a full-time character?
Speaking of Marcus, do you think he's actually clean for good? Seems so, and the final scene where Foreman offers to let him stay with him instead of the halfway house was such a great interaction to watch (and great acting from both guys). Still, I wouldn't be surprised if things go awry when he moves in with Foreman just to test their relationship.
Can we talk about how tall the actor playing the football player is?! Poor Taub looked ridiculous next to him.
I almost wish the writers had given the story of the stop-lossed soldier his very own episode. He's purposely trying to injure himself to get out of his next call of duty — even shooting his own foot — but House refuses to help him follow through on his motives. That is, until the ending. Do you think House showed compassion by aiding in the removal of part of his leg? Or should he have just left him alone?
Well, no sign of sparks between Chase and Thirteen like last week. Maybe the writers aren't trying to set them up after all?
What did you think of the football player's case? It didn't really grab my interest — we've heard this injured athlete plotline before — but I did like his speech to Foreman when he talks about playing to support his mother.
The mysterious apartment pranking was pretty funny — especially when Wilson tries to use a tiny dish towel to save his flatscreen TV from the sprinklers. But I never considered that Lucas was the one behind the gags. Did you have him pegged as the culprit?
Please, weigh in with your thoughts in the comments! And then head over to the House! group to chat more.
Photos courtesy of Fox