Review and Recap of House Episode "Private Lives"
House Rundown, "Private Lives"
After a month-long hiatus for House (and a Cuddy-centric episode), the Princeton-Plainsboro team returns this week to shed light on another mysterious case. I waited in anticipation to see what they'd cook up after time off, but dare I say, I'm somewhat let down. Not that the night didn't have storyline gems, but the patient plot of an over-sharing blogger (Laura Prepon) feels like the show is trying too hard to tap into the 21st century. See how millennial we are?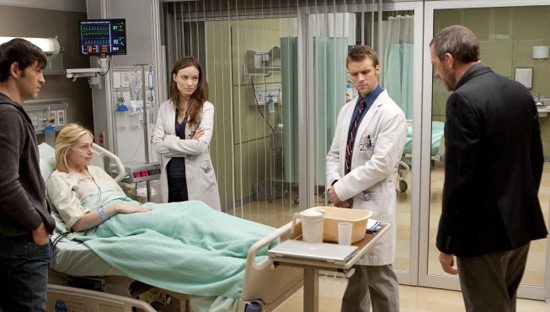 OK, to cut the writers some slack, I do love the battle between Wilson and House, and there is one particularly interesting reveal. It almost seems like we're getting hints about where the characters are headed in coming episodes. Ready to go over some of the night's important questions? Let's get down to it when you
.
I'd hate to be the speed dater stuck with House. When he, Wilson, and Chase head to a mixer, House bets Chase that he'll get the most phone numbers due to his pretty face. Chase agrees — optimistic about the women's lack of shallowness — and pretends to be a slovenly video game player who makes fat comments, while sympathetic Wilson gets stuck with sob stories about cats with cancer. As for House . . . well, he's himself. It isn't a vital scene per se, but hey, it entertained me. Who do you think will actually be the first to start dating next — House, Wilson, or Chase?
Speaking of Chase's love life, once again I think I sensed a connection between him and Thirteen, like the writers seemed to allude to several weeks ago. When Chase is disappointed by the outcome of his speed dating trial (several women want his number despite his behavior), he turns to Thirteen to validate that he's more than his looks, and the two doctors seem to bond. Would you like to see Chase and Thirteen get together?
Let the hijinks continue! House discovers that Wilson is in a porn tape and lets everyone in the hospital know — with posters. To Wilson's credit, it's a video he did for his college film student roommate, and he's not actually in the XXX portion. I do love seeing House and Wilson one-up each other and was dying to watch Wilson get him back. What about you — are you getting tired of the House and Wilson prank wars, or do you still love them as much as ever?
Wilson does return the favor: with a book. With Chase's clever deduction (seriously, it seemed too easy for him to realize House's fake book swap), Wilson finds out that House is reading a collection of sermons. Sermons?! Wilson obviously has a good laugh over this one, and after passing around copies to everyone to taunt House, the truth comes out — the book is written by House's biological father. 1) Yes, House's dad is a minister, and 2) Can we please, please see a reunion between father and son?
As for the patient, I enjoyed seeing Laura Prepon make an appearance, but her storyline? Kind of snoozy. First, we think she's been exposed to rat poison, then it's a bad heart valve, then it's lymphoma, then the vaccine is killing her. Sometimes I wish House could just figure things out on the first try. Did you enjoy her case? Her situation does raise questions about technology and social connection, however. I mean, do you think she's right to poll her blog readers on medical questions?
So tell me, are you glad House is back, or were you like me and hoping for a juicier patient case? Do you want to see an episode with House's father as much as I do? Share your thoughts in the comments, or head over to the House! group to talk more.
Photo courtesy of Fox