Review and Recap of House Episode "Remorse"
House Rundown, "Remorse"
"Remorse" couldn't have been a more appropriate title for this week's House. Just when you think the doc's therapy didn't have any effect on his cold heart, his conscience pops up in the form of a former med school classmate. But while House experiences pangs of guilt, his new patient Valerie can't feel the slightest tinge of, well, anything. Did I mention she's psycho?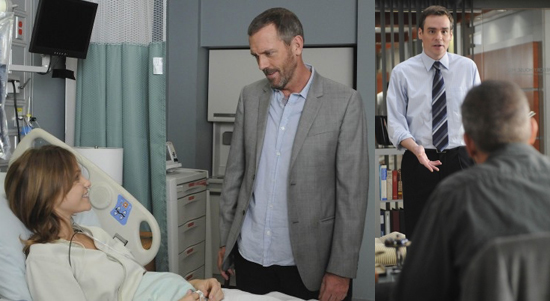 The medical case gave the writers a chance to have some fun as Valerie flips in and out of her faux "good girl" routine, but more so, I'm enjoying the shift that we're seeing in House as he learns from his mistakes and tries to make amends (albeit at a snail's pace). A few questions came to mind as I was watching, so I'm curious to hear your take! Let's break 'em all down and dissect some of the episode's highlights when you
.
Was anyone else expecting a hair-pulling cat fight between Valerie and Thirteen a la Ali Larter and Beyonce in Obsessed? What did you think about the "psycho" storyline?
We saw completely polarized sides of House this week. First, he's unsympathetic by destroying Cuddy's favorite photo, but then he pays the mortgage for a man he tried to hurt years before in med school. Obviously House is just trying to do penance in one scenario to compensate for the guilt he feels with Cuddy (as Wilson suggests). Do you think he'll ever formally apologize to her?
Favorite line of the night, courtesy of Taub: "Oh, sorry, that was our secret," in response to House requesting that anyone who hadn't slept together leave the room. After which, Taub looks at Thirteen. Nice one, Taub.
Speaking of Thirteen, are they really putting her back with Foreman? Ugh. He finally apologizes for firing her, and I swear by the end, she's giving him a longing look. Would you welcome a reunion, or would you rather see them move on?
What I did like about Thirteen in this episode: she solves the patient's case nearly on her own. Personally, I delighted in watching her prove the boys wrong. I know some of you are mixed on her, but did this episode make you warm up to her a bit more?
Did you freak as much as I did when Thirteen breaks Valerie's arm by accident?
I love how this show always raises questions about what (and who) is morally good. Example No. 1: Valerie may be crazy, but her sister divulges how she protected her from their abusive father. Example No. 2: Valerie tries to compare House to her, even though House is supposedly the show's hero.
Great song for the final scene! Fiona Apple's "Why Try to Change Me Now" seemed like a fitting way to tie up the episode.
Please, share your two cents! I'm especially dying to hear what you make of the new focus on Thirteen and Foreman. Sound off in the comments or head over to the House! group to chat more.
Photos courtesy of Fox