Review and Recap of The Office Episode "Happy Hour"
The Office, "Happy Hour": Best Lines of the Night and Video!
Group outing at The Office! Oscar orchestrates a happy hour for the Dunder Mifflin Sabre gang just to get some face time with his crush Matt. While things don't work out exactly like he planned, everyone else seems to have an awesome time! Pam finally resurfaces, Creed takes on a game of Dance Dance Revolution, and we even get to meet Date Mike (nice to meet me!). Did I mention he's wearing a backward Kangol hat?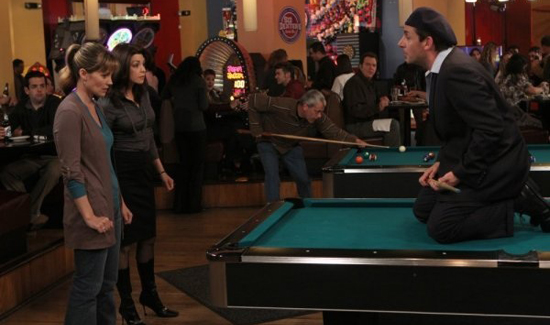 Newly formed couple Andy and Erin are doing everything in their power to not let on about their relationship, while the also secretive Dwight and Angela run into a speed bump with their legal birthing agreement when Isabelle makes an appearance.
All in all, it was a pretty funny episode, and I really enjoyed observing the group outside of its usual habitat — without some lame green-screen landfill. Let's recap some of the best quotes, shall we?
Kevin: "Oh I missed you so much."
Pam: "Yay!"
Kevin: "Waaaa! Waaaa! Waaaa! . . . When a new mom hears a baby cry, her you know whats fill up with you know what, and then her shirt gets, you know. That would be funny."
Oh Kevin, always the pervert. When Pam decides to rejoin her colleagues for their impromptu outing, she bumps into Kevin, who is suspiciously excited to see her. He makes baby noises at her — and continues to make them throughout the episode — all in the hopes of nudging Pam to lactate. Gross, yes, but watching Kevin's mug "waa" like a newborn is a hilarious bit.
For more great lines,
.
Julie: "I am an ESL teacher."
Michael: "Really? See, I didn't think you could teach that. I thought that was something you were born with. What am I thinking right now?"
Julie: "Are you thinking I said ESP?"
Pam and Jim want to set Michael up with Pam's friend Julie — who laughs at anything. She seems to be digging him at first, but once Michael catches wind of the setup he unleashes "Date Mike," an even more abrasive version of himself who wears a backward Kangol hat. So long Julie. But when he has an altercation with the bar/arcade's manager, she hints that she'd like to see him again. I sense a new girlfriend for Michael!
"Angela versus Isabelle: Height? Advantage Isabelle. Birthing hips? Advantage Isabelle. Remaining childbearing years? Advantage Isabelle. Legal obligation? Advantage Angela." — Dwight
Dwight and Angela seem to be getting along at the bar, but Isabelle arrives on the scene to steal Dwight's interest. He's fascinated with her for many reasons (one being her physically larger size), but unfortunately he's bound by his contract to Angela. So Angela does what any legally minded woman might do — she sues him. Isabelle bops Angela on the head in retaliation, which makes Dwight positively smitten, and so am I! I can't wait to see what happens with these two crazy kids.
Erin: "Hey big boy, do you like it when I do that?"
Andy: "What are you doing?"
Erin: "What we said to do."
Andy: "We didn't say we were going to like, start groping strangers."
Erin: "I was flirting with a man."
Andy: "Where did you learn to talk that?"
Erin: "The movies? I don't know."
Andy: "What movie? Black Snake Moan?"
After this episode, I would be perfectly content to watch at least four more episodes of just Erin and Andy. They're trying to keep their status on the DL, because they don't want the drama — yet, they yell lines at each other like "Talk to me that way again, and I'll cut your face off!" They sneak away to give their camera testimonials (while Kevin makes obscene gestures in the background), and even go so far as to hit on other people. Perhaps Erin takes it a bit too far. Good thing though, because it gets Andy to finally announce (over the PA, naturally) that they are, in fact, together.
To see that moment again, here's the video:
What'd you think of the episode? Did you have any favorite quips that I missed? I know there are others! Share them in the comments, or check out The Office! group to chat some more.
Photos and video courtesy of NBC