Review and Recap of The Office Episode "St. Patrick's Day"
The Office, "St. Patrick's Day": Best Lines of the Night
It's St. Patrick's Day at The Office this week, and the entire Scranton branch is decked out in green. Jo (Kathy Bates) is back for the special celebration, but unfortunately she's all work and no play — which, of course, drives Michael bananas.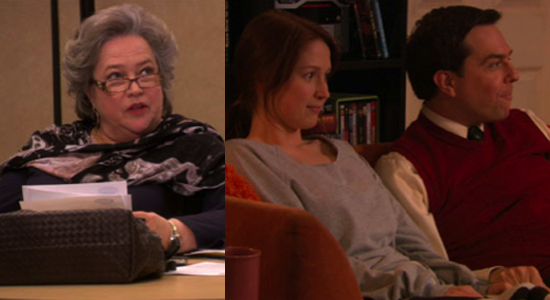 I was curious to watch where the writers picked up after the birth of baby Halpert, and we get a quick glimpse of little Cecilia in her Irish onesie. Jim is going through the parental pangs of having her at home, which Dwight manipulates to his full advantage. Oh, and in one of my favorite storylines of the night, Erin and Andy finally go out on their date. Well, sorta.
The episode wasn't rip-roaringly funny to me, but that's OK, because there were still a few cute zingers to make up for it (Megadesk!). Let's recap.


"It is St. Patrick's Day, and here in Scranton, that is a huge deal. It is the closest that the Irish will ever get to Christmas." — Michael
Michael fails to realize that most Irish are Catholics, but no matter, because I loved seeing the crew wearing its best green. Michael has his tie on, Andy sports a kilt — even Meredith looks classy. Michael seems particularly fond of the holiday, calling green M&Ms "nature's Viagra" and making plans to have everyone hit the bar afterward. That is, until Jo shows up, forcing them to stay late.
More memorable lines when you
.
"Tweedledee and Tweedledumbass have been away on maternity leave, and now Tweedledumbass is back and we have a problem. Yes, getting hooked on Megadesk was my own damn fault, but I don't care about assigning blame. All I care about is Megadesk." – Dwight
Megadesk! This is the funniest shtick of the episode, as Dwight has joined his desk with Jim's to create a giant work station. Jim yanks it apart, but Dwight refuses to give up. He's so in love with Megadesk that he hatches a plan: make Jim feel guilty about his child, so he'll leave.
"They say that no man is an island. False. I am an island, and this island is volcanic, and it is about to erupt with the molten hot lava of strategy." — Dwight
Dwight puts into motion his plan of getting Jim out of the office by playing on Jim's emotions. When that doesn't work, he annoys him to death by singing "Cat's in the Cradle" (with Andy chiming in, of course). Jim gets him back in a good way though, by swooping in and requesting to leave early before Dwight has the chance. Dwight returns later to find that Jim has reinvented his Megadesk into Quaddesk. Genius. Keep the hiijinks coming, Jim.
Erin: "Andy, I'm in my jammy-jams."
Andy: "That's all right, I'm in my worky-works."
They may be the most dorky couple on the planet, but you have to admit that Andy and Erin are pretty darn cute. After their first date gets thwarted due to Erin's cold, Andy fakes being sick himself so he can go to her place to spend time together. It looks like they're making progress as they start holding hands on the couch, but soon Erin's roommate — her foster brother — interrupts the mood. Even worse: things seem borderline romantic between the two siblings. Awkward, but hilarious! Luckily, Erin helps salvage the night by planting a kiss on Andy's cheek. Rewatch the sweet moment (along with the crew partying it up at the bar):
Also, can we just acknowledge the cleaning crew? They were only onscreen for maybe two seconds, but they made me laugh harder than anything else in this episode. I was also pleasantly surprised to see Darryl move up the food chain and get his own office on the main floor. I hope this means we'll be seeing more of him in the coming weeks.
What did you think of this week's show? Any lines you especially enjoyed? Tell me in the comments, or head on over to The Office! group in the BuzzSugar Community to chat some more.
Photos and video courtesy of NBC