Review of The Wolfman Starring Benicio Del Toro, Anthony Hopkins and Emily Blunt
The Wolfman: Monstrously Bad
Since werewolves are so hot right now, I wanted Benicio Del Toro's The Wolfman to be the sophisticated, gothic horror entry into the creature-centric movies. It's promising at first — Del Toro's Lawrence is brooding, dark, and a little sexy, and the atmosphere is rich and spooky.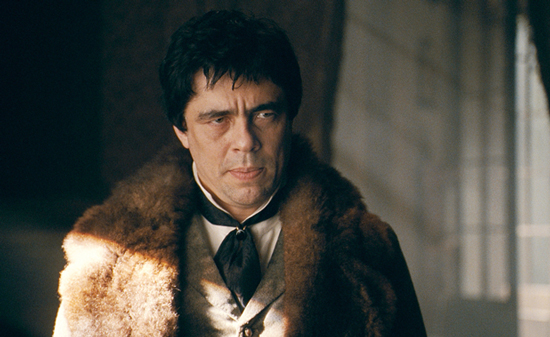 The film begins with Lawrence returning to Blackmoor, England, to his childhood home and the father who'd sent him away as a boy. Tragedy has struck: Lawrence's brother Ben has been brutally, mysteriously murdered and Lawrence is determined to find out what happened. He hopes to comfort his disapproving father, played by Anthony Hopkins, and Ben's grieving love, Gwen (Emily Blunt).
The secrets of the Talbot home rattle Lawrence and the viewer, but by the time the first werewolf attacks Lawrence, the movie devolves into slasher-flick gore, a paper-thin plot, and dialogue so bad you don't know whether to grimace or laugh.
For more of an explanation, just
.
I'd love to know what happened between shooting the movie and editing it down. It seems like the juiciest parts of the story were cut in order to make room for the horrific scenes of violence. I assume that's where all the attention to detail went: people are torn in half, gutted, limbs pulled off, eyes gouged out — this movie is not for the squeamish. I will give props to The Wolfman for creativity, in particular showcasing little-seen human parts like entrails, which so rarely get their shining moment in film.
The gross factor is the movie's highest achievement, though, and doesn't make up for any of the spectacular failures. This is the worst acting I've seen from Benicio Del Toro in years, but that's not to say he needs to turn in his Oscar — the dreadful script carries the blame. Even fellow respected thespian Anthony Hopkins shuffles about onscreen spewing unintentionally funny lines. The only performance I wasn't appalled by is Blunt's. As Lawrence's love interest, she generates very little heat with Del Toro, but she does have an excellent scared face.
The movie ends with an uncreative hint at a sequel, clearly hoping to have a few more years with the hairy monster as a bankable item. The irony is that with offerings like this, people will only want to see the pop culture werewolf will die a swift death.
Photos courtesy of Universal Studios