Revolution TV Show TCA Panel
Get Ready For "Ass-Kicking Adventures" on NBC's Revolution
It seems like every pilot season comes with one hyped-up sci-fi drama (like FlashForward and Terra Nova), hoping to follow in the footsteps of cult favorites like Lost. This year's hopeful is Revolution, which comes from executive producer J.J. Abrams. Though Abrams couldn't make it to the show's TCA panel, cast members Billy Burke (whom you may recognize as Bella's dad from Twilight), Giancarlo Esposito, and Tracy Spiridakos took the stage, along with Eric Kripke and Jon Favreau, who directed the pilot. The series takes place 15 years after a mysterious national disaster leaves the world without any electricity.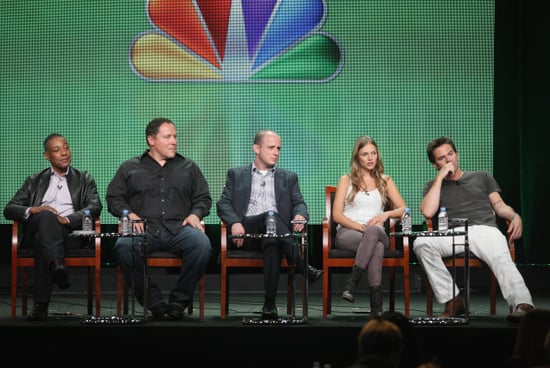 Though the series is set in the near future, Kripke asserted that the setting is more like a throwback to the olden days before electricity was invented. Think people riding on horseback and toting their own guns, with steam engines expected to come into play in the first batch of episodes. That said, the vibe they're going for is very much that of a fantasy series; Kripke wants the world to be "hopeful," "romantic," and "lovely," with a heavy emphasis on nature.
Favreau, who is best known for directing movies like Elf and Iron Man, said that Abrams's compelling vision is what drew him to the project. He said that Revolution is in the same vein of many popular young adult novels, where the youth are preserving and overcoming harsh conditions. (I assume that The Hunger Games falls into that genre.) Both Favreau and Kripke hinted that a big theme of the show isn't just in finding out why the lights went out, but in the dilemma of whether or not the people actually want the electricity to come back.
Esposito echoed the sentiment that the show focuses on a return to a "simpler life." The actor is best known for his role as the terrifying Gus Fring on Breaking Bad, and if the pilot is any indication, he might be playing the villain once again. His character is something of an outlaw authority who uses harsh methods to keep the peace. Esposito said it's "delicious to be the bad guy" but also teased that his character may not be as evil as you might think.
Burke shows off some serious swordsmanship in the pilot and joked that he totally got his butt kicked training for the role. That said, Kripke made it clear that Revolution is more focused on characters than splashy action sequences, though the show will be filled with plenty of "ass-kicking adventures."
To see more pictures from the panel, just
.