Rewind: This Week's Buzz
Rewind: This Week's Buzz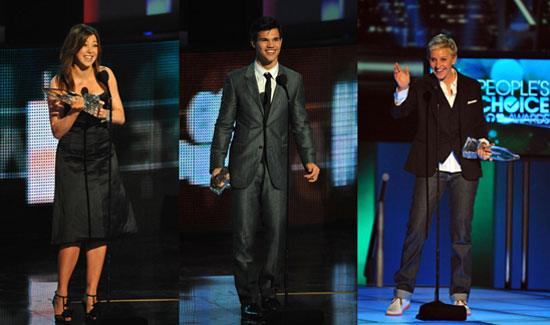 The People's Choice Awards helped kick off award season, and I got to talk to Hugh Jackman, Mariah Carey, and Sandra Bullock in the press room. In case you missed the full list of winners, go here.
Speaking of award season, don't forget to enter our Golden Globes Ballot for the chance to win an Apple TV and $300 from iTunes!
One more thing: want to talk about all the awards buzz among yourselves? Check out my group where you can wax poetic about all of this year's hopefuls.
The blogosphere is going nuts over the Jay Leno/Conan O'Brien late-night shift — and you guys seem to be in consensus that Leno should just get canceled.
Avatar dominated the box office yet again and there's talk of a sequel. James Cameron is on such a hot streak right now, he's already eyeing yet another project.
New Year, new month, new entertainment choices! I shared my must haves for January.
Reality TV mania! The Celebrity Apprentice and Survivor: Heroes Vs. Villains announced their new casts, and The Bachelor premiered a brand-new season.
Youth in Revolt hit theaters, and along with my review, I also covered some of the film's music and interviewed stars Michael Cera and Portia Doubleday. Plus, in honor of rebels everywhere, here are my favorite movie bad boys.
Sneak peek photos of James Franco on 30 Rock? Yay! James Franco cutting off his right arm for 127 Hours? Ick.
We watched America Ferrera in the trailer for Our Family Wedding. As for her other gig, you have mixed feelings on the latest Ugly Betty rumor.
I interviewed Amy Adams about her movie Leap Year; check out my review.