Ricky Gervais and Will Arnett to Appear on The Office Season Finale
The Office Doubles Up on Funny Guys: Will Arnett and Ricky Gervais!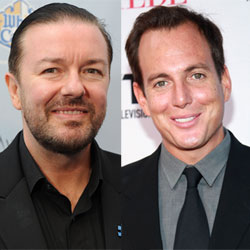 The Office may be losing Steve Carell in a matter of weeks, but the comedy certainly won't be hurting for funny guys to fill in the gap. We already knew that Will Ferrell will show up later this season, and now the show runners have lined up Ricky Gervais and Will Arnett to appear in the season finale (Gervais has already made a cameo on the show earlier this season). I assume that Gervais will once again be playing David Brent (manager of the UK version of the show), but no word yet on who Arnett will be playing. One thing we do know is that the star power may not end there, as producers are trying to pack even more guests into the one-hour closing ceremonies. Do you think these guys will add some spice to Dunder-Mifflin? And who else would you like to see stop by?