On the Road Movie Review
Cannes Minireview: On the Road
Required reading for teenagers in America, Jack Kerouac's On the Road is now a big-screen film, and the finished product just debuted at Cannes. It's one of the most anticipated movies to be screened at the Grand Palais — read on to see what we thought.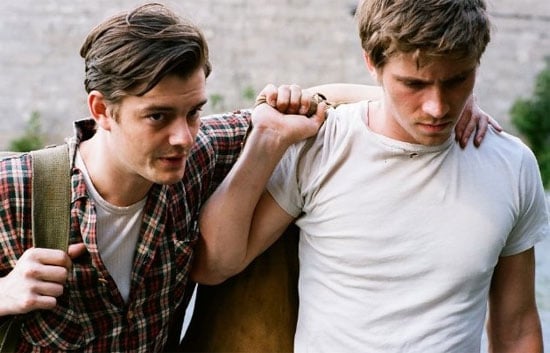 Who's behind it? Walter Salles, of The Motorcycle Diaries, was tasked with directing the picture, which is of course based on the Kerouac classic. Salles has a long list of stars — at one point, I wondered who isn't in this movie. Sam Riley, who had a star-making role in 2007's Control, plays the lead role of Sal Paradise, and Garrett Hedlund is his pal Dean Moriarty. Kristen Stewart and Kirsten Dunst have smaller parts as Dean's love interests, and Amy Adams, Viggo Mortensen, Tom Sturridge, Steve Buscemi, Elisabeth Moss, and many more have other cameos. The production has been in the works for decades. Francis Ford Coppola secured the movie rights back in 1980.
What's it about? It's the beat generation in the USA during the 1940s, but Sal Paradise can't seem to get past his writer's block. Sal takes up with a group of friends who love drinking, talking, dancing, and moving. Dean Moriarty enters the picture and offers adventure. He likes to move around the country, not caring where the money comes from or which hearts he breaks. Sal's a devoted friend to Dean, and they travel the country meeting up with friends, family, strangers, and going wherever the road takes them.
To read what I thought, just read more.
What did I think? The book came out in 1957 and no director before Salles took on the task of creating the film — perhaps for a reason. There's an inherent challenge in taking a beloved book and making a gripping two-hour movie. The plot at times drags, but there is so much energy in the production that I didn't mind.

Salles is a talented director, and he rises to the occasion. He conveys the restlessness of Dean, Sal, and their gang. The movie is gorgeously shot. The American countryside is bucolic, the buds of cotton lush, and the bridges, roads, and cars picturesque. This is the role Sam Riley has been waiting for — he's talented and looks great on screen. Riley is an actor to keep an eye on. Many fans, though, will see this film to check out Kristen Stewart. They'll be in for some surprises.