Rob Schneider TV Show Interview at TCA
Rob Schneider Talks About His Wife as the Real-Life Inspiration For New Sitcom Rob
Saturday Night Live alum and frequent Adam Sandler collaborator Rob Schneider is coming to TV with his own series, Rob. The CBS show's title isn't the only thing that's inspired by Schneider: the premise of the midseason show, about the newlywed relationship between Rob and his Mexican-American spouse (played by Claudia Bassols) and her family, is based on Schneider's own relationship with his wife. Schneider hit the Winter TCA along with showrunners and other stars like Cheech Marin to talk about the love story behind the show.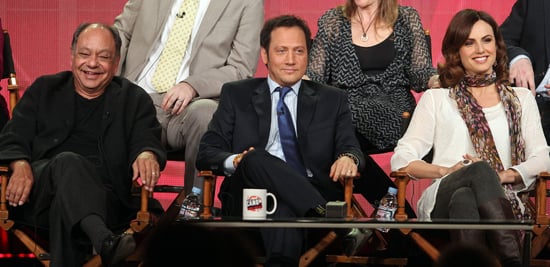 Schneider, whose wife Patricia is from Mexico City, said their home life has inspired the show. "It's like a sitcom at our house," he said, because his wife is so funny, and since her first language is Spanish, there's often humor found in that. She's prone to saying things like "in Spanish I'm much funnier, you have no idea," and "translator off!" meaning she's not going to listen to him anymore at certain times of night.
Schneider recounted his love story with Patricia, highlighting their mutual ethnicities as a factor. "My dad's German," he explained, "they're not touchy feely," but "Mexicans kiss you when you see them and when you leave." He called it a beautiful thing, and when he first met his wife (he was a guest on a show in Mexico that she was producing), and she kissed him to greet him. He said he then begged her to go out with him for weeks, and finally she accepted, flying from Mexico to LA with her mother to meet.
Costar Bassols, who plays Rob's wife on the show, said that she has met Schneider's wife Patricia, but has not taken notes for her performance. "She has that something special that's impossible to imitate," Bassols said, and gushed about how sweet Schneider's relationship with his wife is. "Every time Rob talks about his wife, his face lights up," she said, adding that "their love story inspires this whole story." When she was done, Schneider softly said thank you to her. All together now: Awww.