Robert Pattinson Makes TIME's 100 Influential People
Robert Pattinson, Sandra Bullock, Lea Michele Among TIME's Most Influential
This morning, TIME unveiled its annual list of the 100 most influential people, and naturally I skipped right ahead to the artists and entertainers section (I promise I'll come back to the heroes and thinkers later). As far as I'm concerned, the list really reflects the names that made headlines this year: Robert Pattinson of course, as well as Taylor Swift, Conan O'Brien, and Neil Patrick Harris. I was also pleasantly surprised to see Lost masterminds Carlton Cuse and Damon Lindelof get some love. Here's a rundown on who's been influencing us this year — and if you disagree, you can always choose your own most influential celebs in the PopSugar 100 bracket!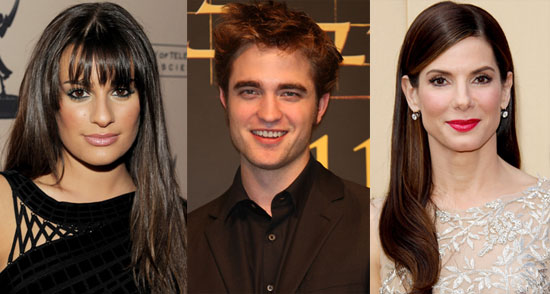 Robert Pattinson (as written by Chris Weitz): "Perhaps it's just worth pointing out that it'd be fun to have a beer with him even if he weren't Edward Cullen."
Lea Michele (as written by Olivia Newton-John): "Lea, 24, is wise, savvy and beautiful, an extremely gifted singer-actress-dancer-comedian with perfect pitch (I love that!)."
Neil Patrick Harris (as written by Joss Whedon): "He can get the girl and sing about the boys, and it all works."
Lady Gaga (as written by Cyndi Lauper): "She isn't a pop act, she is a performance artist. She herself is the art. She is the sculpture."
Sandra Bullock (as written by Betty White): "She's been labeled America's Sweetheart, which sounds soft and sweet. Sandra is both of those things, but she also has a strength of her own."
To read a few more tidbits on Ashton Kutcher, Kathryn Bigelow, Simon Cowell, and beyond, just read more.
Kathryn Bigelow (as written by Oliver Stone): "With The Hurt Locker, Bigelow unflinchingly stuck her finger in the tragic heart of a national wound — our inability to face ourselves."
Ashton Kutcher (as written by Sean "Diddy" Combs): "Most of us want to make as much money as we can, but Ashton, 32, is out to make the world a better place."
Conan O'Brien (as written by George Lopez): "In the world of comedy, his was a Cinderella story in size-15 shoes."
Taylor Swift (as written by Stevie Nicks): "This girl writes the songs that make the whole world sing, like Neil Diamond or Elton John."
Simon Cowell (as written by Nick Cannon): ". . . But watching Simon stay true to himself and never falter has been one of the most inspirational messages of Idol's phenomenal run."