Rock of Ages Review
Rock of Ages: Tom Cruise Doesn't Have Moves Like Jagger
With big hair, wacky musical numbers, and inspired casting choices, Rock of Ages is just as flashy and flamboyant as you would expect from a musical about the rock scene in 1980s LA — but it's not nearly as entertaining as it could be. Based on the hit play, the movie has a star-studded cast, with Tom Cruise at center stage as Stacee Jaxx, the biggest rock star in the Rock of Ages universe. Hoping to follow in his footsteps are Drew (Diego Boneta) and Sherrie (Julianne Hough), who are crazy in love and happen to be aspiring singers. They work at The Bourbon Room, a Sunset Strip venue run by Alec Baldwin and Russell Brand, and Catherine Zeta-Jones is the politician's wife who's trying to shut them down.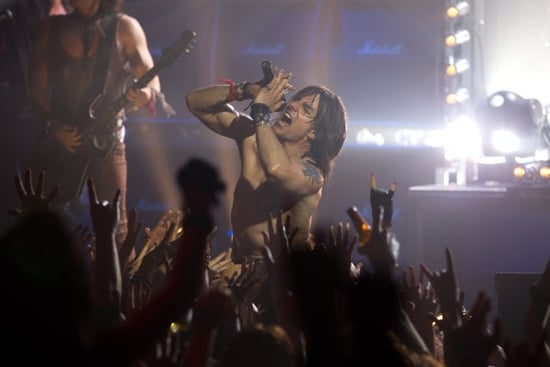 The characters chronicle their joys, sorrows, and hopes through classic rock hits, which could be a lot of cheesy fun, but instead, it's just cheesy. Rock of Ages has a killer soundtrack and doesn't take itself too seriously, but it's more ridiculous than rocking. To find out why I think the movie falls flat, just keep reading.
The movie's most interesting casting is, without a doubt, Tom Cruise as Stacee Jaxx. It's a novel idea, putting a superstar like Cruise in assless chaps, a bandana, and sunglasses and commanding him to rock out like an '80s hair metal icon. Cruise goes balls-to-the-wall and gives it everything he's got, but sadly, it's not enough. He's just not a believable rock star. He puffs up his chest instead of naturally swaggering, and the costumes wear him, rather than the other way around. Still, I've got to give him props for trying; not everyone can be a rock star. As the characters who get the most screen time next to Stacee, Hough and Boneta both do a decent job, but they fail in making the love story of Sherrie and Drew compelling.
The rest of the cast gamely takes on their silly roles, and it might put a smile on your face when you first see stars like Baldwin and Brand rocking terrible wigs, but that smile will quickly turn into a grimace when you hear them sing. Bad vocals aren't the only cringe-worthy thing about Rock of Ages; Zeta-Jones stiffly shuffles through some bizarre group numbers, and the dirty jokes in the script only seem to get more awkward.
The music of the film almost validates the movie as the characters re-appropriate the hits of bands like Journey, Bon Jovi, and Poison for whatever situation they're in. There are a few high points, particularly when everyone gets in on "Here I Go Again" and "Don't Stop Believin'," but some other numbers feel like mediocre karaoke. Mary J. Blige is an exception; she sounds fantastic, and I wish the filmmakers had cast more seasoned singers over actors straining their voices.
I expected Rock of Ages to be fluffy, but this takes fluffy too far. Each and every storyline is predictable, and with the uneven performances, I was disappointed. I love rock and roll, but this rose has too many thorns.