Runner Runner Movie Review
Timberlake and Affleck Fail to Thrill in Runner Runner
Justin Timberlake and Ben Affleck sound like a dream team, which is why it's such a shame that their collaboration, Runner Runner, falls so flat. Timberlake plays Richie, a grad student who bets big on online poker with the remains of his college fund and ends up losing it all. He takes the next logical step: he flies to Costa Rica to track down the mysterious mogul Ivan Block (Affleck), who he believes cheated him. It's a bit of a ludicrous setup, and it just gets sillier from there. This isn't to say Runner Runner doesn't have some redeeming qualities — did I mention Justin Timberlake and Ben Affleck are in it?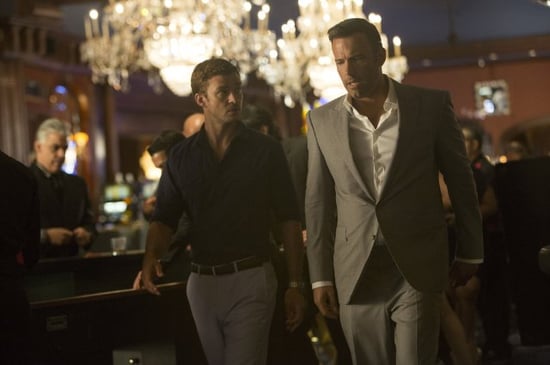 Once Richie arrives in the tropics, he suavely makes his way into Ivan's life via Ivan's sultry personal assistant Rebecca (Gemma Arterton). Ivan offers to pay Richie for discovering the "glitch" in the system, but Richie picks door No. 2: a high-ranking position in Ivan's company, guaranteed to make him a millionaire in under two years. Because that also makes a lot of sense. There's nothing special about Timberlake's performance here, other than it being fun to see him playing off of Affleck. And Affleck is clearly having a ball with the bad-guy role (complete with his own set of intimidating alligators!). Get more of my take on Runner Runner after the jump.
I kept waiting for something unexpected to happen, but the film trudges along, making its way through all the suspense-movie clichés. The biggest thrill comes when the FBI enters the scene, abruptly kidnapping Richie to interrogate him about Ivan. Richie starts to realize Ivan might not be the upstanding business man he seems to be (gee, ya think?) and suddenly, his future doesn't look as bright as all those glitzy parties he's been attending. Anthony Mackie fills the role of Serious FBI Agent, but his presence is lost in the boring script.
My main issue with the movie isn't its stars, it's that the plot is so bland. There's a bad guy, a good guy, and a sexy love interest. There's risk, money, and action, but we've seen it all before. Runner Runner simply isn't twisty enough, and, though they are as beautiful, the characters aren't nearly as interesting as the tropical scenery.