Rupert Grint at Universal Celebration of Harry Potter 2016
Rupert Grint on Fantastic Beasts: "They Made a Huge Mistake Not Casting Me"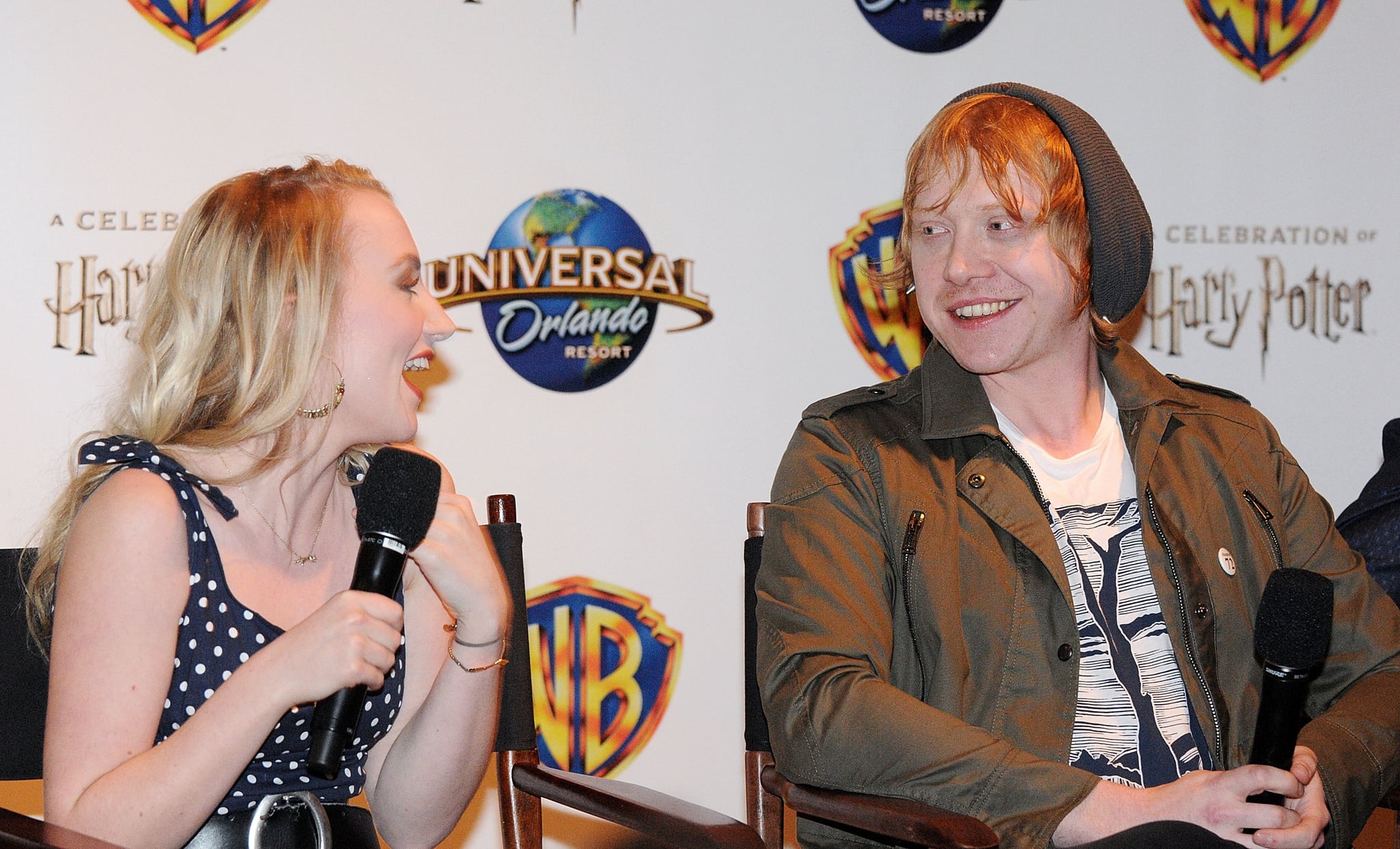 At Universal Studios Orlando's third annual "A Celebration of Harry Potter," stars of the franchise got nostalgic with embarassing behind-the-scenes stories, talked about the upcoming additions to J.K. Rowling's wizarding world, and shared their sentiments about the recent passing of Alan Rickman, who played Severus Snape in the series.
"It was quite a side swipe; I was devastated," Rupert Grint (Ron Weasley) told a group of reporters at a Q&A panel on Friday. "He was just the sweetest guy, very special. Very sad to see him go." Matthew Lewis (Neville Longbottom) said, "It was shocking. I just remember just the warmth that he had on set, and the fun, and the gravitas that he carried with him — when he went into a room everyone noticed." Evanna Lynch (Luna Lovegood) noted that she appreciated how Rickman didn't underestimate Snape in his performance and that he was "so generous all around, as a person and in his art."
J.K. Rowling's spinoff film Fantastic Beasts and Where to Find Them was also a topic touched upon by the cast. Lewis said he went on a set visit a couple weeks ago, adding, "I was absolutely blown away by what they have got in store for everyone. I'm incredibly excited about seeing it, and I'm looking forward to seeing what Eddie Redmayne brings to the character and to the series." When later asked if there was any desire to return to their Harry Potter characters or be in the new series, Grint joked, "I think they made a huge mistake not casting me," before adding, "It's amazing that it's living on, and I can't wait to see it."
While the group, which also included Bonnie Wright (Ginny Weasley) and Katie Leung (Cho Chang), mostly agreed they have closed that chapter of their lives — with the exception of Lynch who said she'd reprise her role in a heartbeat — they did have fun with a question on if they could play any other role in the Harry Potter series. Wright was quick to reply with Hagrid, while Leung would play Draco, Lewis would like to try someone on the "darker side" like Draco, Grint would be curious to play a different gender like McGonagall, and Lynch chose "the Dobby in the books" for his style and "because you get to skip makeup every day."
The cast also shared some on-set antics from back in the day, like when Leung admitted she "nicked a spoon" from the ball set. "It was the most rebellious thing that I did," she said. Or when Grint "got the giggles" during filming in the Room of Requirement — "Everyone was so mad that day," Lewis added. And the other time Grint's line, "You're gonna get a fistful of Weasley" had to be cut because he couldn't get through it. "For some reason that was hilarious," Grint said, laughing.
Then perhaps the funniest revelation came from Lewis, who revealed he hasn't been able to watch the Harry Potter films since they were in theaters: "I tried to watch the first film a couple of months ago; my intention was to watch all of them. I got into the first one, and then my big stupid face came onto the screen, and I was like, time out, I'm done. I didn't get any further than that. So I haven't even seen the films since they came out. I know that's terrible." For the record, we think his face is far from big and stupid.
For even more from the Harry Potter cast from A Harry Potter Celebration, be sure to watch Lewis and Grint answer questions in this hilarious video.