Russell Brand at MTV Movie Awards 2012
Russell Brand as MTV Movie Awards Host: Nailed It or Missed the Mark?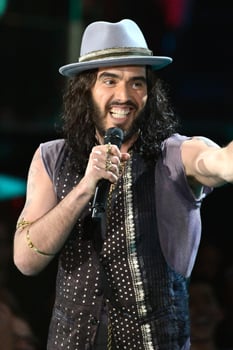 Twas a star-filled night at the MTV Movie Awards, and there to reign in the chaos as the master of ceremonies was Russell Brand. He has a particular brand (no pun intended) of humor, one that we're plenty familiar with thanks to his stint hosting the MTV VMAs not so long ago.
I couldn't help but giggle as Brand consistently reminded us who the real stars of the show are — "Twilight! Hunger Games!" — but his opening monologue was far from inoffensive, jabbing at John Travolta's recent publicity, Michael Fassbender's assets, and even MTV's Teen Mom. A lot of hosts can get away with the intentionally awkward intro, but it may have gone a little too far with the Travolta stuff. On the other hand, he also poked fun at himself and his short-lived wedding to Katy Perry. What did you think of Brand as a host?