Hot stars in '90s gear, a celebrity-filled Daft Punk cover, and a nod to The OC had us cracking up this week. Other videos and pictures that captured our attention included a Mean Girls reading, a Jay Z-meets-Taylor Swift mash-up, and a funny surprise during Matt Damon's interview. Take a look at this week's funniest Internet finds!
Matt Damon's Interview Gets Interrupted
Jimmy Kimmel Live's Guillermo gave Matt Damon a bit of a surprise when he crashed the actor's interview to promote his own movies, Estupido and Ass Face.
Hot Guys in Lisa Frank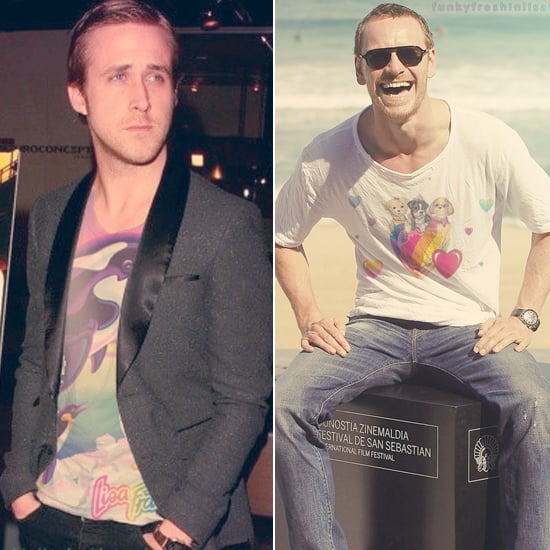 Who knew Ryan Gosling and Michael Fassbender were such Lisa Frank fans? In a hilarious nod to the '90s, the Funky Fresh in Lisa Frank Tumblr reimagines the style of sexy stars, and we have to say — Ryan makes rainbow whales look good.
Stephen Colbert Gets Daft Punk'd
When Daft Punk canceled their appearance on The Colbert Report, Stephen Colbert decided to do his own, celebrity-filled cover of their song "Get Lucky." The final result features epic dance moves from stars like Bryan Cranston, Jimmy Fallon, and more.
Read on for more funny finds.


Jay Z Meets T. Swift
In one perfectly ridiculous mash-up, Pop Culture Pirate paired the music video for Jay Z's "Picasso Baby" with Taylor Swift's song "22." Hilarity ensues.
Mean Girls in 30 Minutes
In a simultaneously impressive, puzzling, and awesome move, NextMovie's intern Christopher Rosa recited every line from Mean Girls in under 30 minutes. Seriously, you have to see it to believe it.
Rachel Bilson Channels The O.C.
To celebrate the 10th anniversary of The O.C., past cast members reflected on the show, and Summer Roberts — er, Rachel Bilson — created a funny video message for fans.