Ryan Gosling's directorial debut, Lost River, will finally hit a (small) number of theaters, and VOD, on April 10. Gosling's freshman effort debuted at last year's Cannes Film Festival, where it was promptly slammed by critics. One of the main complaints? That the film, which Gosling also wrote, feels like a mishmash of styles cribbed from several more-established directors: David Lynch, Terrence Malick, and Gosling's Drive and Only God Forgives director, Nicolas Winding Refn, among them. That may be true, but when I caught the Cannes premiere screening of Lost River, I was struck more by all the elements in the movie that reminded me of elements from other Ryan Gosling movies. Here are a few devices, props, and people from Gosling's past work that pop up in subtle — and not-so-subtle — ways in his first behind-the-camera effort:
Detroit
Gosling returned to Detroit, where much of his film The Ides of March was shot, for his first gig in the director's chair. The location stands in for the fictional Lost River, and you'll see echoes of the gritty inner-city landscape from that 2011 George Clooney collaboration here.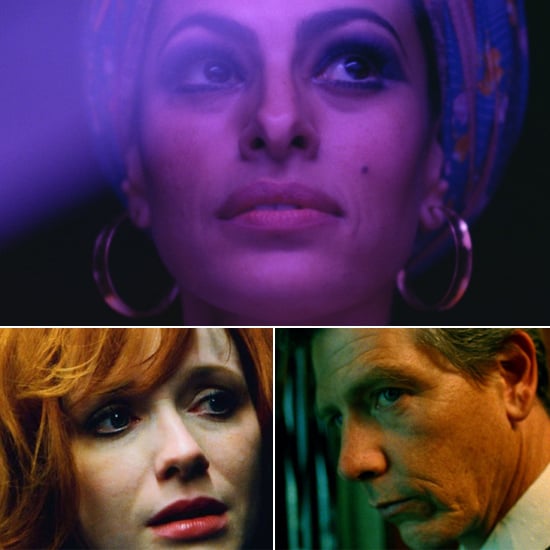 Eva Mendes

, Christina Hendricks, and Ben Mendelsohn

Ryan called upon several of his former costars when he was casting Lost River: his girlfriend, Eva Mendes, Australian actor Ben Mendelsohn from The Place Beyond the Pines, and Mad Men star Christina Hendricks, whom he acted opposite in Drive.
A Main Character Who Fixes Up Cars
Gosling's lead character in Lost River is Bones, a teenager stuck in a decaying town, whose only hope of getting out of dodge is a broken-down car in his front lawn. So, like Gosling in Drive, we spend several scenes watching our star tinkering under the hood of a car that represents his ticket to a better life.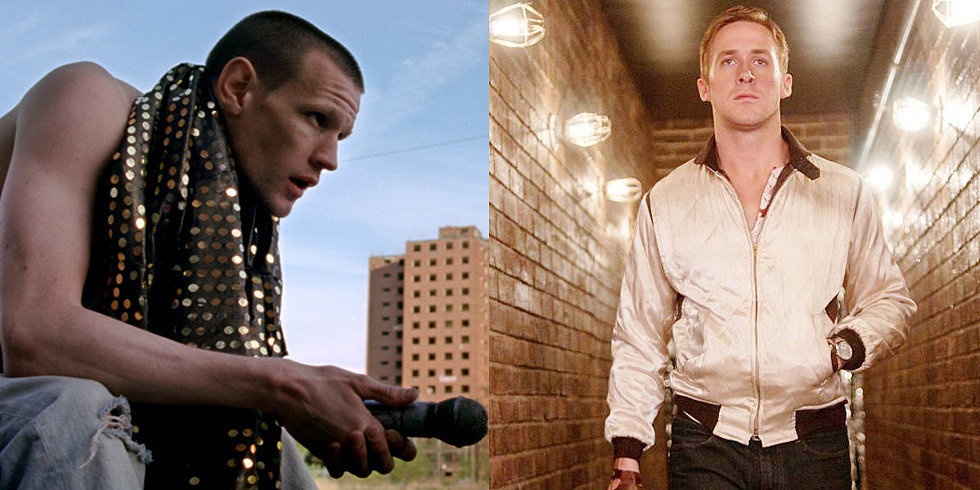 A Character With a Really, Really Cool Bomber Jacket
Speaking of Drive, it's fair to say that Gosling's satin scorpion jacket in the film was one of Driver's most defining features — not to mention a really popular Halloween costume the year that movie came out. Obviously, the allure of a great statement piece in creating character hasn't been lost on Gosling. His Lost River villain, Bully (played by Dr. Who's Matt Smith), also rocks a memorable metallic gold bomber for much of the film.
An '80s-Inspired Soundtrack
Gosling took yet another cue from Drive with Lost River's electronic-inflected soundtrack, which frequently sounds like it would be equally at home in the 1980s as in the 2010s.
A Blow-Up Doll
In Lost River, Christina Hendricks's character — a single mom struggling to make ends meet — reluctantly takes a job at an underground cabaret club. In one particularly creepy room, she's forced inside a plastic shell to serve as a kind of human blow-up doll for the club's perverse clientele. Maybe that's a leftover fever dream Gosling had after filming Lars and the Real Girl?
A Supremely Uncomfortable Dance Sequence
While we're discussing Lars and the Real Girl, remember that squirm-inducing scene where Gosling's character dances with a nonexistent partner to a Talking Heads song in the middle of a crowded party? Lost River offers up its own off-putting dance number that will leave you wanting to avert your eyes.
An Absent Father
In Lost River, Bones is expected to be the man of the house in a father-less family at a too-tender age. The missing-dad trope has been present in Gosling films including The Place Beyond the Pines, Half Nelson, and Only God Forgives.
A Rowboat
Lost River star Iain De Caestecker is already earning comparisons to a young Gosling. And who better than Gosling himself to identify one of the key factors in his early success — the rowboat — and give his young star the chance to emulate him? The prop was integral to one of The Notebook's most climactic scenes and Gosling's place in pop culture, and it serves an equally important purpose in Lost River, albeit a way less sexy one. How thoughtful of Gosling to pass the torch.
Photos courtesy of Bold Films