SAG Producer Kathy Connell Interview
SAG Awards Producer Kathy Connell Says Watching the Show Is "Like Being at a Private Party"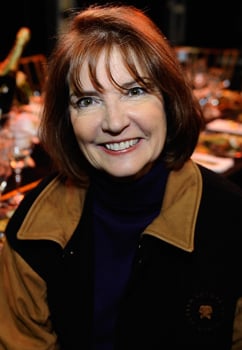 The Screen Actors Guild Awards air this Sunday, and the folks behind the show are just as excited about the night as the A-list nominees are. I chatted with SAG Awards producer Kathy Connell about why this year's broadcast will be worth watching, how these particular awards are different, and why you should never refer to them as "SAGs."
BuzzSugar: What fun things do we have to look forward to on Sunday?
Kathy Connell: We have the best lineup of presenters that I am so amazingly proud of. Our lineup of presenters is staggering. And the highlight will be the Lifetime Achievement Award to Mary Tyler Moore that's being given by Dick Van Dyke.
Buzz: With all the award shows, what's different about the SAG Awards that would make people tune in?
KC: Well, because the actors are talking to each other. It's sort of like being at a private party. There are actors as far as the eye can see; when an actor gets on that stage, all they can see are other actors. You look down and see Meryl Streep's over here, and George Clooney's over there, and Brad Pitt's over there. It's pretty daunting when you hit that stage and you look down. I always warn, particularly the Life Achievement people, [that] when they hit that stage, it's going to become emotional, because as far as they can see, there are their peers acknowledging them. And that's true of every actor who wins our statue, which is known as "The Actor."
To find out what else Connell said about the show, just keep reading.
Buzz: What kind of environment does that make for the show?
KC: It's casual but it's meaningful. They get to sit at tables, and so you've got the cast of Bridesmaids sitting next to the cast of The Office, across from The Good Wife, and The Help is behind them. And so the TV and film people are all mixed in together. They've all received a ballot, so they all get to vote for each other, and that's what makes it unique. It's peer voting for peer, and they understand what it takes to do a great performance.
Buzz: Do you think there will be surprises at the SAGs this year?
KC: I'm always surprised by our people. And we don't call it SAGs — is there any woman you know who likes to use the word "sag"? We either call it The Actor or the SAG Awards!
Buzz: Will there be any fun features like musical numbers this year?
KC: Oh, no, we're a very simple show. We don't do that because to us, the evening is about the actors and what the actors have to say, but we will be doing a tribute to the regional actors this year. Everybody thinks actors are only located in New York and LA, and we have actors in 20 branches across the country, so we will be doing a salute to those guys. But we also have something that is just something for SAG Awards alone. We started something [where] the actors tell their stories at the top of the show. We never announce who those people are going to be, so it's always a surprise, and it's always live. And they are winging it there, and so I anticipate some funny remarks at the very top of the show.
Buzz: How did that feature come about?
KC: One of our producers came up with that lovely idea because we started right from the beginning, the first SAG Awards, that we would have one actor come out and tell a story. And then about the eighth year, we said, what about if we made them shorter and we had a bunch of people talk? And we tried it and we loved it, and it's become a signature for us.
Catch all of Sunday night's SAG Awards red carpet action LIVE right here on PopSugar Network starting at 6 p.m. ET / 3 p.m. PT, and tune into the SAG Awards show at 8 p.m. ET / 5 p.m. PT on TNT and TBS. For the latest SAG Awards updates leading up to Sunday, follow @PopSugar and @SAGAwards on Twitter.