Sally Field Interview at Oscars Luncheon
Sally Field Says "I Did My Work" to Play Mary Todd Lincoln at Oscars Luncheon
Best supporting actress nominee Sally Field is up for her third Academy Award, and for Lincoln, she had a considerable acting challenge in playing a famous first lady. Field talked about the demands of playing her at today's Oscars Luncheon and discussed how she approached the job.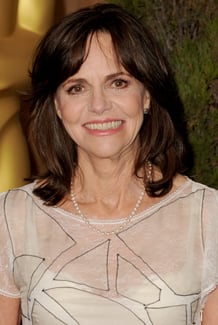 On which emotion she tapped into to play Mary Todd: "She was a very colorful personality. . . . I'm an actor. It's hard to say how you really become the character you want to become. Certainly I have had some opportunities in my life, not as many as I'd like, to play really complicated characters, and you don't tap into any one emotion. You try to live in this place. . . . I can't say I tapped into any one emotion. She was a highly emotional being. She always was; that's what they always said about her. I just did my work."
On her love of documentaries: "I think it's really important that documentaries be in the mainstream. I think this year is a sterling example of absolutely wonderful documentaries. Everybody should see them."