Sandra Bullock Interview About Gravity and George Clooney
Sandra Bullock and George Clooney Had a Truce Not to Prank Each Other on Gravity
Sandra Bullock came to Comic-Con to talk about her upcoming film set in space, Gravity, in which she and George Clooney are the only onscreen actors. In the press conference for the movie, Bullock talked about working with Clooney, who's famous for his on-set pranks, and why they had to have a truce not to prank each other on this particular film. She also talked about using real astronauts as references for her character, while Gravity director Alfonso Cuarón, who was also at the conference with Bullock, talked about what he's hoping to show with the astronauts-in-peril movie.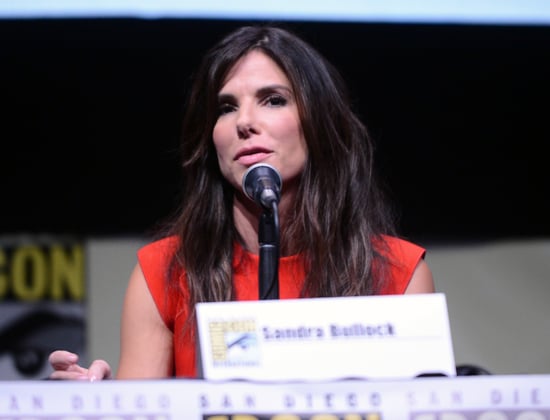 Bullock said that she and Clooney did not prank each other on set, because they established a truce at the beginning of shooting. "There was a truce . . . This film was so hard — pranks had no place. We had no downtime. How are you going to prank someone who's hanging from a scaffolding where 12 wires are rigged up all day? We had a truce from the very get-go because that just wasn't the appropriate place to prank someone."
Cuarón clarified that the truce was only between Clooney and Bullock, but he wasn't spared. "They [just] decided not to prank each other," to which Bullock interjected, "We didn't prank you — we just made fun of you." Cuarón added, "So that was how they entertained themselves."
Clooney and Bullock's astronaut characters are stranded in space, and Cuarón had a clear vision for the sci-fi film. "The goal was for the film to feel like one of those IMAX documentaries that went absolutely wrong," he said.
Bullock's resources for the film included actual astronauts, whom she called and emailed in space. "They were so excited about the vantage point that this film was taking, which was the same that they have, which is a great love for the program because of what they get to see and admire about our planet and the universe around them. It's such an organic love that they have. It's not just adventurers going up in pods and they [just] love the technology. They have a deep, deep love for our planet and civilization and what we're wasting. Those were the nice conversations to have." She added with a laugh, "So that gave it an emotional gravity."