Sandra Shows Her Grateful Side in the SAG Press Room
Sandra Bullock hit the red carpet at tonight's SAG Awards looking lovely, and she shined on stage once she won the Best Actress statue for her work in The Blind Side. She gracefully entered the press room to talk about her gratefulness for being rewarded after reevaluating her whole approach toward her work. She said: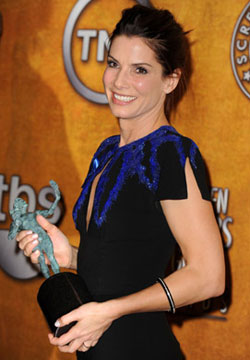 On her latest win: "Being an actor was something I never owned up to, in a way. I could be a hostess or a waitress or a house restorer before I considered myself an actor because I never thought I was good enough. . . to be in a room tonight and be with the women I'm in the company of. . . I feel like I am part of a group I am really proud of. And they take such good care of you in the Screen Actors Guild!"
On beating Meryl: "It's a fluke, I feel it's wrong if you really want to know the truth. . . My money was on Meryl, and I'll tell her that time and time again. There were exquisite performances this year, but Meryl always manages to top herself."
On choosing her roles now: "I meant what I said when I said I quit once and wasn't working for two years, and in that time, interestingly enough, I met my husband and was happier at home than I was anywhere else. And it made me even more selective. I learned how to say no."
On if she has anything on her bucket list: "You know what, there's not one thing I can think of that I haven't done. I do everything, you know I am one of those people who knows how lucky she is. Every day I look around the house and count my blessings."