The Sapphires Review Cannes Film Festival
Cannes Minireview: The Sapphires
The Sapphires has turned out to be one of the sleeper hits to emerge from Cannes, thanks to The Weinstein Company, which has already acquired rights to the film. I caught a screening of the funny film from Down Under during the festival, so read on to find out what I thought.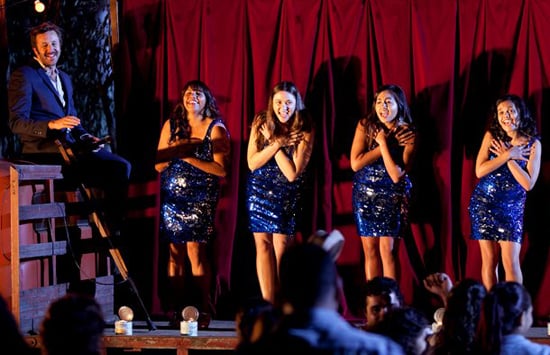 Who's behind it? Director Wayne Blair was behind the lens of the picture, which is based on a play by Tony Briggs. Briggs's mother and her family actually inspired the story. Chris O'Dowd of Bridesmaids fame is the leading man. The movie's four leading ladies all have varying degrees of fame in Australia: Jessica Mauboy is a musical star after a turn on Australian Idol, and Deborah Mailman was the first Aboriginal actress to win the country's prestigious Australian Film Institute award for best actress. Relative newcomers Miranda Tapsell and Shari Sebbens round out the cast.
What's it about? It's a story about a group of Aboriginal women who overcome significant obstacles in Australia to pursue their dreams of singing in 1968. When the ladies run into Dave (O'Dowd) at a local singing contest, he agrees to be their manager and help them get a gig touring Vietnam to entertain US troops. There are subplots about racism and Australia's "lost generation" (until the 1970s, the government stole light-skinned Aboriginal children to be raised by whites elsewhere). Mainly, though, there is a lot of singing, dancing, and '60s-era costumes.
To read what I thought, just read more.
What did I think? I laughed. I cried! The Sapphires isn't breaking any cinematic molds, but it's a feel-good tale that you'll have fun watching. The girls are talented and relatable, and the performances are great. It's a refreshing change of pace for O'Dowd after Bridesmaids and Friends With Kids. Things are only going to get better for him and, likely, for the ladies of The Sapphires too.
Photo courtesy of The Weinstein Company