Sarah Michelle Gellar Talks Ringer at the TCA
Sarah Michelle Gellar Talks Ringer, Motherhood, and Her CW "Homecoming"
Sarah Michelle Gellar will make her return to the small screen for the first time since Buffy the Vampire Slayer on the CW's new drama series, Ringer. To raise the stakes, Gellar will be playing two characters — identical twins named Siobhan and Bridget — whose checkered pasts and secrets create drama for both. At the TCA press tour, Gellar was joined by her costars to talk about how she knew she was ready for TV (her daughter Charlotte had a lot to do with that), and why she'll always be proud of Buffy.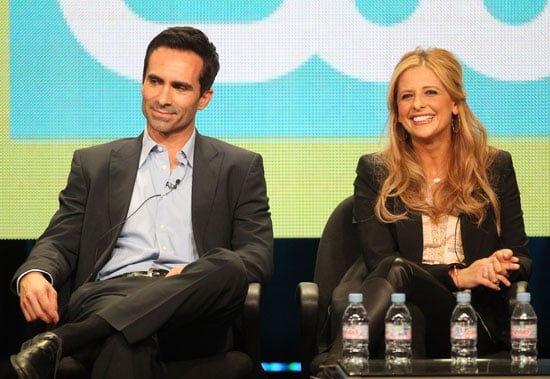 Gellar has been focusing on movies since her Buffy days, and she attributed that to feeling very "burnt out" after the show ended. As for what brought her back to TV, she said that she started watching a lot of television on DVD and realized that "all the amazing roles for women were on television."
The birth of her daughter, Charlotte, also played a role. Gellar said, "Once I had my daughter, I realized that I was done living the nomadic lifestyle. I want to be home and I want to put her to bed, and be there for her first day of school, and nothing offers that more than television. I realized I missed it. I think if I hadn't had the time away I wouldn't be able to appreciate the experience the way I am appreciating it now."
Though Gellar won't be doing the same kind of stunts we saw on Buffy, she noted that she likes holding a gun because "Buffy never got a gun."
To see what Gellar had to say about All My Children and Buffy's legacy, just
.
Shifting gears for a moment, Gellar also confirmed that she'll be contributing to the farewell to All My Children, the soap opera that earned her a Daytime Emmy. Though she won't be reprising her role as Kendall, she said that she'll be doing one day on the set and just wanted to be part of the final episodes.
Ioan Gruffudd, who plays Bridget's husband on the show, also has fond memories of his soap opera days in Wales. He commented that he feels like everything has come full circle because Ringer has a lot of soapy elements, like a combination of "your favorite Alfred Hitchcock movies with your favorite telenovela."
For costar Nestor Carbonell, moving from Lost to Ringer was actually an easy transition. He said, "I was drawn to the material, coming off of a show that was a serialized thrilled amongst many other things, this seemed like a great way to go."
Ringer was originally attached to CBS before it found a home on The CW, which Gellar said is actually a relief. She called it "a homecoming, in a sense," since many of the same people who work at the CW are from the WB. She also said she was grateful because she knew what she was getting into, and felt that some of the pressure was off, which will give Ringer time to grow a fan base.
When asked if she had any regrets about Buffy, Gellar was quick to say that she doesn't have any negative feelings whatsoever. She said, "I'm proud of the show, and I'm proud of its legacy. How many times do you get to be part of a legacy like that?"