Savages Movie Review
Savages: 3 Reasons You Should See It — And 3 Reasons You Shouldn't
Director Oliver Stone's new project Savages hit theaters this week, and it's an intense thriller featuring three of Hollywood's young talents. Taylor Kitsch and Aaron Johnson star as Chon and Ben, friends since high school who have perfected the science of growing weed. Their business has attracted a lot of attention, some of it welcome — as from O (Blake Lively), the beach-haired beauty they share in bed — and some of it a little more sinister. Threatened by the big slice of pie the duo is taking out of her profit, Elena (Salma Hayek), the brutal boss of a major Mexican cartel, essentially offers to buy them out. When they rebuff her because of their high moral fiber (they're the "good" drug dealers), Elena retaliates by capturing their most prized possession, O. Before you write it off or buy your ticket for Savages, check out my reasons why this movie might be for you . . . or might not.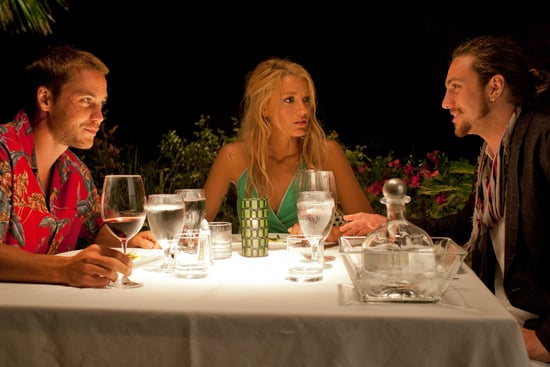 Why you should see it:
Stone's take on modern drug dealers is hilarious — in a good way. If there's one thing I learned about ruthless drug lords from Savages, it's that they love Skype. It's a little disconcerting to see the same technology I use to talk with my mom put to use by a vicious marijuana queen-pin, but it's also pretty amusing. Elena's right-hand man, Lado (Benicio Del Toro), is also a man of modern convenience. He enjoys iced beverages from Starbucks and frequently eats from the refrigerators of the men he's been ordered to kill. I chuckled when one of the goons in charge of keeping O captive in her prison cell is seen mesmerized watching Ashley Hebert moan to her girlfriends on The Bachelorette.
It's visually beautiful. Chon and Ben live in a stupidly expensive Laguna Beach abode overlooking the ocean, the house that their eco-friendly marijuana empire built. The lush beach town is ripe for sweeping coastal shots, but even the way Stone shoots the intimate scenes is pretty magnificent.
Taylor Kitsch shows his butt. I knew this would be an R-rated movie and I expected some nudity, but I thought it would probably be from Lively. I was admittedly taken aback to see Kitsch bare his impressive assets in the opening moments of the film. I'm not complaining, but it's lucky the theater was dark, because my face was crimson.
To see the reasons why this movie might be a pass for you, just read more.
Why you might not like it:
The violence is gruesome. Some viewers may consider watching a man being whipped in the face until his eyeball is dangling out of its socket to be a cinematic treat, but I am not among that class. I had to look down for a lot of the violent scenes, which include some really medieval torture techniques and literal beheadings.
One of the main characters is awful. Lively gives a whiny, pouty-lipped performance very similar to the one she gave in The Town, only this time her character is a poor little rich girl. O is supposed to be so intoxicating that two men are willing to share her, yet O displays no redeeming characteristics whatsoever (except that killer bod). It's even hard to evoke sympathy for her when she's been kidnapped yet doesn't understand the scope of the trouble she's in. Her biggest complaint with the situation is that she's being forced to eat pizza. Also, naming someone O means that every time another character mentions her, it sounds like they just remembered a chore they forgot to do.
The dialogue borders on cheesy. For the most part, this is a solid script, but some of the remarks leave something to be desired. O's line in the opening sequence, "Just cause I'm telling you this story doesn't mean I'm alive at the end of it," sounds a little melodramatic, but at least it serves to set the movie's unpredictable tone. However, too much of the dialogue involves overworked phrases. At one point, the war-hardened Chon turns to tenderhearted idealist Ben and says, "You don't change the world; it changes you." It feels very after-school special for such a provocative film.
So what do you think? Are you still planning to see Savages?